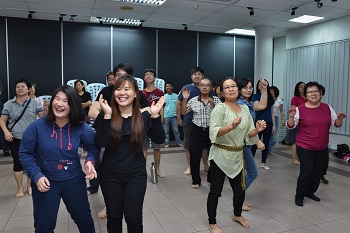 Selangor
In 2018, SGM created history in achieving 20,000 Professors of Happiness. In order to nurture every member effectively and for the organisation to operate smoothly, a new organisation structure has been introduced. SGM now consists of a headquarters with seven states, 32 zones, 94 regions, 302 chapters, 671 districts and 1,803 blocks in the country, heralding the new dawn of kosen-rufu in Malaysia.
In December 2018 and January 2019, leaders meetings and members general meetings were held throughout the nation. In these gatherings, the new organisation structure and new leaders were announced. Certificates of achievement for groups (now blocks) that achieved the "Role Model Group" last year were presented to representatives of the groups. Other than looking back at 2018 and the sharing of victory reports, the goals and activities directions for 2019 were also announced. The 2019 focus will be on achieving "new dawn blocks."
In his congratulatory message, SGM General Director Koh Sia Feai thanked members for their hard work and dedication in achieving great development for Malaysian kosen-rufu in the previous year. He further urged them not to slacken in their efforts and continue developing the momentum for victory, thus creating one triumphant history after another. Mr Koh also encouraged the members to build a harmonious and united community of believers overflowing with the joy of faith.
To commemorate the new dawn of kosen-rufu in Malaysia, members of all four divisions sang "Song of Human Revolution" and vowed to compose a victorious drama of human revolution while striving in the Year of Soka Victory.