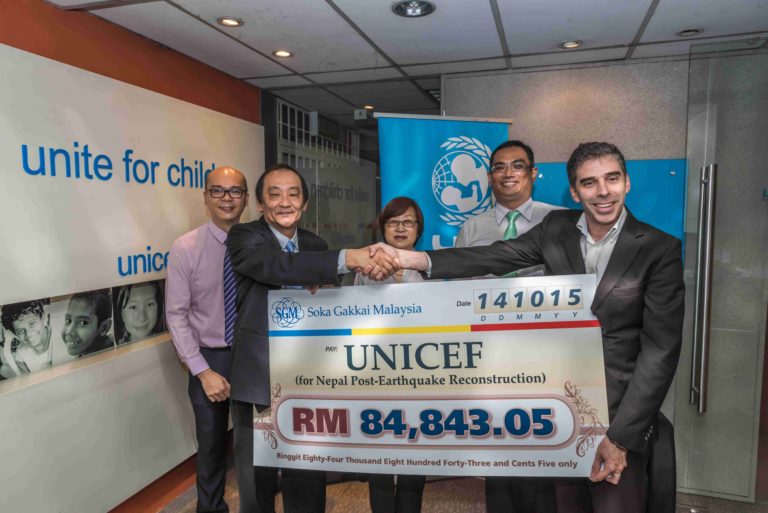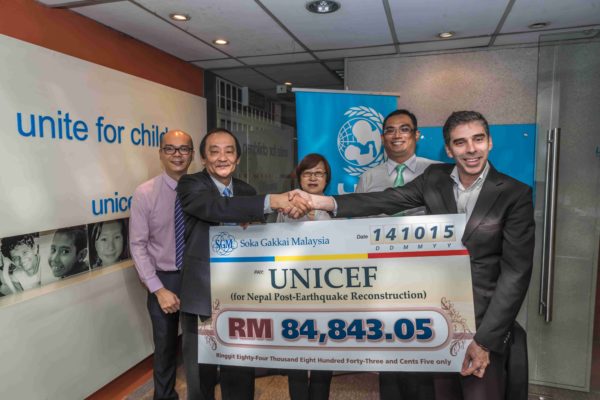 On 25 April 2015, a devastating 7.8-magnitude earthquake rocked the nation of Nepal. On the subsequent weeks later, another powerful 7.3-magnitude earthquake have strike Nepal again on 12 May 2015. These two major earthquakes have killed more than 8,500 peoples and shattered hundreds of thousands of lives.
Soka Gakkai Malaysia (SGM) organised a fund raising culture night in support for Nepal disaster relief efforts earlier and collected a donation sum of RM 84,843.05.
On 14 October 2015, Mr. Koh Sia Feai, General Director of SGM handed over the donation to The United Nations Children's Fund – UNICEF, as a contribution to the reconstruction of the earthquake-stricken areas. The donation was received by Mr. Richard Beighton, Head of Fundraising and Partnerships of UNICEF Malaysia.
The handover of the donation was witnessed by Mr. Dinesh Chandren, the Editor of SGM Publications, Ms. Katherine Chui and Mr. Chia Kok Peng of SGM Public Relations. Mr. Richard Beighton thanked SGM's members sincerely for the donation and as well as for the kind concern and sympathy. On top of that, he also promised to utilize the donation to help those affected. In return, he presented a certificate of appreciation to SGM as a sign of gratitude.
Press Contact: SGM Public Relations Department, Chia Kok Peng
Tel: 03-9075 6876
Fax: 03-9074 2413
Email: sgmpro@sgm.org.my