October 21, 2020 was the 30th SGM Women's Division Day. Women's division (WD) members around the country gathered online at their respective areas and joyfully held significant hope-filled general meetings throughout October.
First on October 10, chapter and above WD leaders held a nationwide general meeting. After watching a video featuring brief victory reports of 71 WD members,other participants continued to share their victory reports "live." Their determination and actions have sent the light of hope into society which is still being ravaged by COVID-19.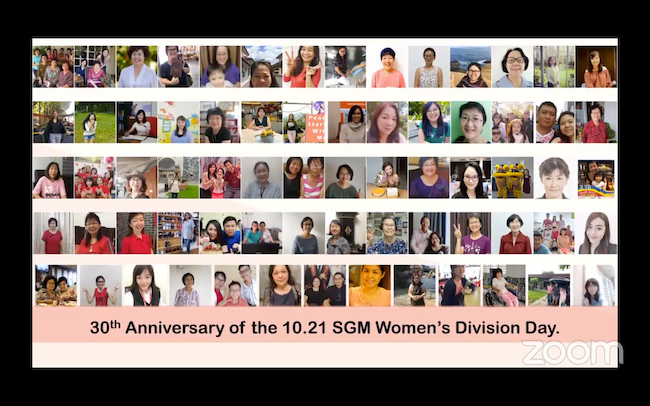 On October 14, Greater KL Cyber Puchong chapter held its general meeting in which Angela Boo Yit Foong shared how she successfully improved the relationship between her and her husband and children, while Kok Kam Ling shared on how she built a harmonious family. Kua Pei Sze, who started practising two years ago, shared her joy of introducing Nichiren Buddhism to friends, and Ng Ai Choo shared her victory of challenging to read The New Human Revolution when her eyesight was deteriorating.
In Mambau, Negeri Sembilan, near where Soka International School Malaysia (SISM) will be built, a general meeting was held on October 16. Lee Pey Ling shared her experience in overcoming the grief of losing a loved one and facing financial woes. On the other hand, Ng Bee Hong shared her joy after seeing two friends sharing the changes in their lives after they started practising.
| | |
| --- | --- |
| | |
| Puchong | Farlim, Penang |
| | |
| | |
| --- | --- |
| | |
| Terengganu | Mambau, Negeri Sembilan |
| | |
On the same day, in Farlim, Penang, the general meeting was held together with members from the four divisions in a discussion meeting. Ooi Lean Kim shared her experience on recovering from depression and successfully improving her relationship with her husband. Koh Cheng Hwa shared how she overcame her fear after undergoing surgeries on her thigh and spine. Meanwhile, Kaho Group members Ong Pek Booi and Chan Ang Ang successfully broke through their limits when striving for others' happiness.
On October 20, in Batu Kawa, Sarawak, members held their general meeting where Foo Yit Kim shared her experience on overcoming illness; Lai Su Chin shared the joy she felt when praying for her brother's goal to be achieved, and Bong Li Joon shared how she overcame obstacles she faced in her workplace.
Also, on October 23, in a meeting held at Pahang Tas chapter, Law Yoke Pheng and Liaw Koi Hoi shared their impressions of making sincere contributions, while Nong Yao Khan Piam shared her impression for being able to quickly recover from cervical cancer treatment.
| | |
| --- | --- |
| | |
| Sarawak | Tas, Pahang |
| | |
| | |
| General Director Koh Sia Feai | WD leader May Chan |
| | |
In the nationwide general meeting on October 10, SGM General Director Koh Sia Feai expressed his gratitude towards the WD members who had contributed much to the development of Malaysia's kosen-rufu. He later talked about the great mission that SISM holds and urged all members to dedicate themselves to the establishment of her school.
Towards 2030, the 100th anniversary of the Soka Gakkai's founding and also the 40th anniversary of SGM WD Day, SGM WD leader May Chan announced some goals to be achieved in the next ten years – to advance by practising two guidelines:  "appreciating each person" and "fostering pioneers who are able to realise their own mission." The Soka women were determined to illuminate the Malaysian society like a brilliant, hope-filled sun.