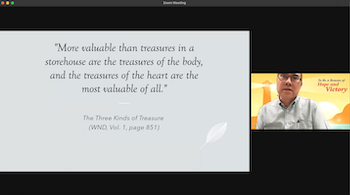 Gosho study lecture by Vice-General Director Johnny Ng
On January 30, 2021, the SGM Beacon Group held a nationwide online seminar with the theme "Be a Beacon of Hope and Victory." Some 160 SGM healthcare professionals came together from around the country. The aim of the seminar was to renew the participants' spirit and enable them to make fresh departures in fighting the COVID-19 pandemic.
First of all, SGM General Director Koh Sia Feai sent a congratulatory message, thanking all the healthcare professionals for their untiring efforts in saving people's lives during the pandemic. He also urged them to give warm support to SGM members who are facing numerous challenges during this period.
SGM Vice-General Director Johnny Ng conducted a Gosho study lecture, covering several topics, including the common goal of Buddhism and medical science; the importance of going beyond one's limitations; staying hopeful and achieving victories with a vast heart, and understanding the true nature of health, illness and death. He stressed the importance of perceiving the devilish functions in life and bringing forth hope to their workplaces.
Five Beacon Group members shared their experiences in faith during the pandemic last year.
| | |
| --- | --- |
| | |
| Dr Yap Ka Boi | Dr Bee Boon Peng |
| | |
Dr Yap Ka Boi, an anaesthesiologist from Negeri Sembilan shared about his struggle in overcoming anxiety regarding COVID-19 and working as a frontliner for the sake of his patients. He was deeply moved by President Ikeda's guidance and was able to bring forth courage from within. Dr Chong Chin Chen, a dentist from Johor talked about how he succeeded in completing his Master's programme amid the COVID-19 pandemic based on abundant daimoku and hard work.
Ms Teoh Tsyr Fen, a pharmacist from Penang, and Dr Ching Siew Mooi, a family medicine specialist from Universiti Putra Malaysia joyfully shared with the participants how they introduced friends to Nichiren Buddhism despite facing their own challenges, thus further strengthening their faith in Buddhism.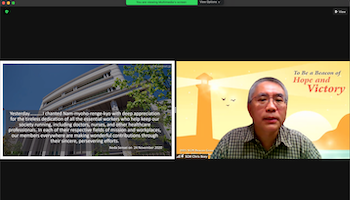 Beacon Group leader Dr Boey Chiong Meng
Dr Bee Boon Peng, a paediatrician from Negeri Sembilan also shared about how he overcame anxiety. After reading President Ikeda's guidance and chanting abundant daimoku, he was able to find creative ways to overcome his anxiety by sowing the seeds of Buddhism in the hearts of those facing difficulties.
Finally, Beacon Group leader Dr Boey Chiong Meng, also a pediatrician from University of Malaya, said that President Ikeda is always expressing his sincere gratitude to all healthcare workers and praying earnestly for their well-being. He discussed passages from The New Human Revolution and President Ikeda's recent messages at the Headquarters Leaders Meetings, encouraging participants to vow to advance along the journey of the oneness of mentor and disciple.
It was a truly joyful gathering. The participants made a fresh determination to become beacons of hope and victory in response to President Ikeda's expectations when bestowing the name "Beacon Group" 13 years ago on May 3, 2008.