As climate change intensifies, disasters continue to unfold around the world, including Malaysia, the earth that we live in is now in a state of emergency.
To overcome these crises, everyone must be awakened, examine our actions and way of life, and take action to make changes.
In conjunction with Earth Day and SGM's Month of Sustainable Development in April, SGM Kuala Lumpur  Branch will launch a new exhibition titled "Seeds of Hope and Action: Making the SDGs a Reality" (SOHA) and promote some SDGs related programmes. Details are as follows:
"Seeds of Hope and Action: Making the SDGs a Reality" (SOHA) Exhibition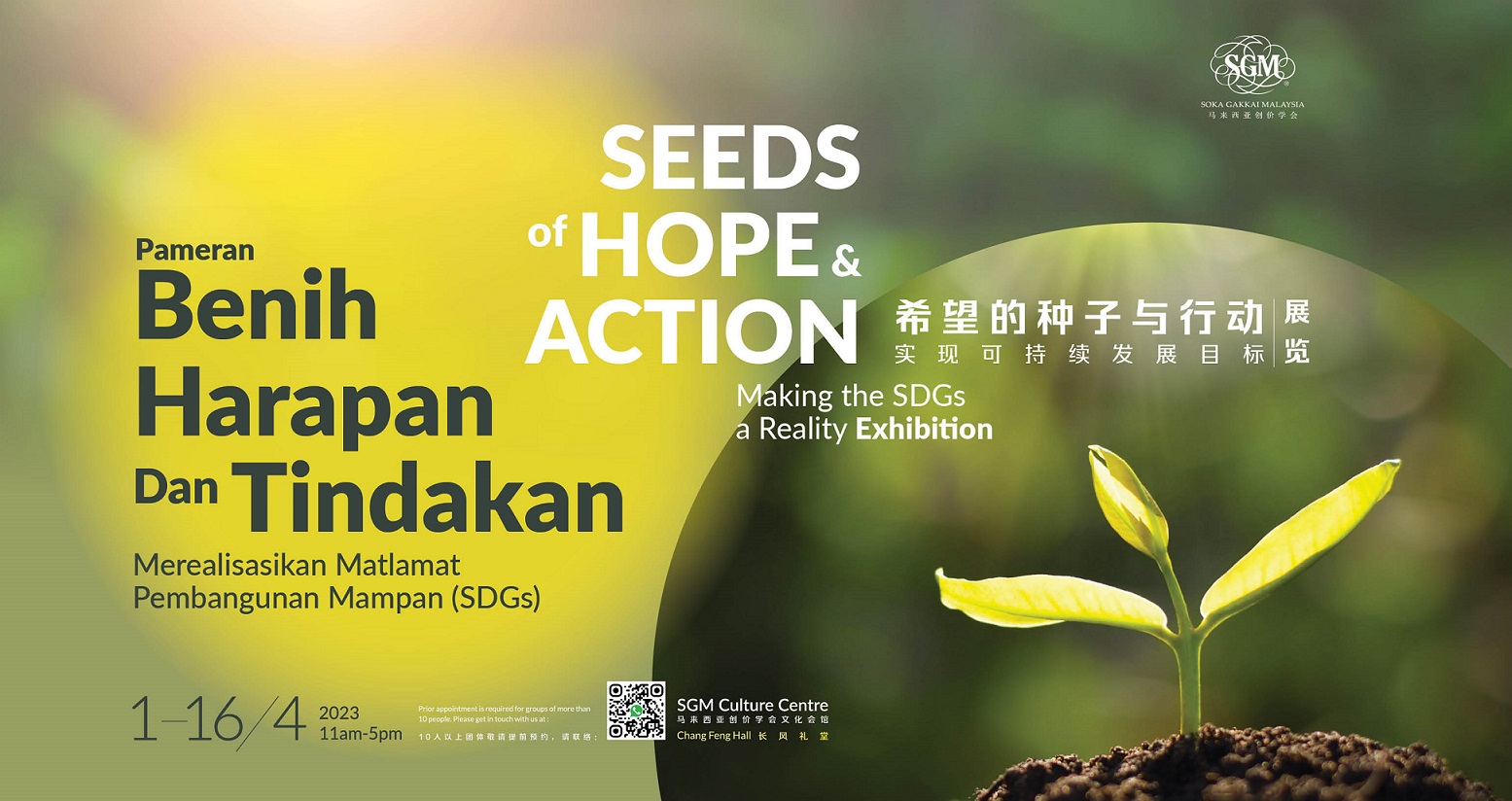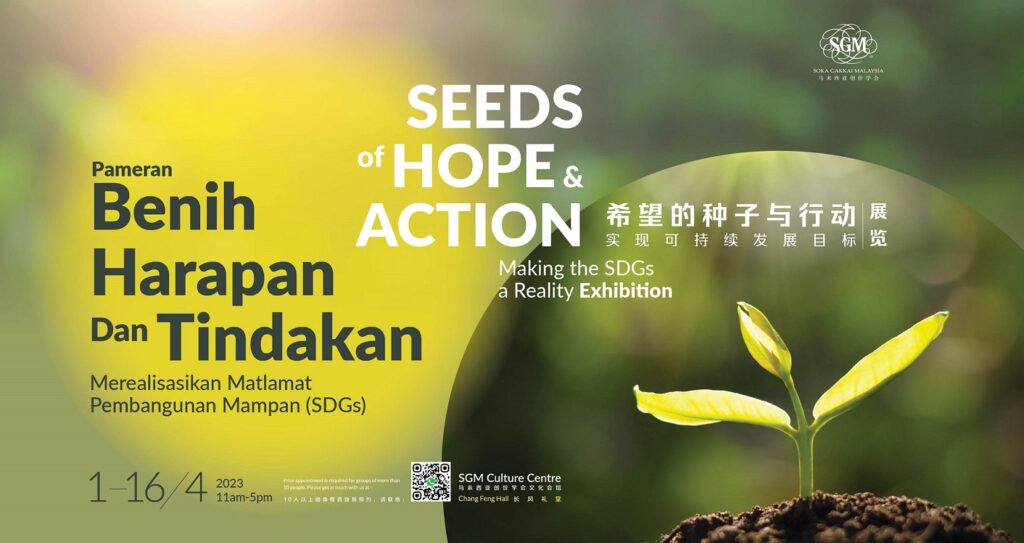 This exhibition is co-created by Soka Gakkai International (SGI) and Earth Charter International as an educational tool to raise public awareness and show the way towards a sustainable lifestyle. More importantly, the exhibition aims to convey the message that every single individual possesses the power to initiate a positive change.
By using the formula of "Learn, Reflect, Empower, Lead" outlined in Soka Gakkai International President Daisaku Ikeda's proposals on education for sustainable development, this exhibition introduces a positive vision for sustainable living that can contribute to the realisation of the Sustainable Development Goals (SDGs).
Prior to this, from 2005 to 2010, SGM organised the "Seeds of Change: The Earth Charter and Human Potential" exhibition, which attracted more than 75,000 visitors across the nation. In 2010, the "Seeds of Hope: Visions of sustainability, steps toward change" exhibition was launched and has toured 250 venues nationwide, including schools, universities, community spaces and shopping malls, with more than 194,000 visitors.
** SOHA Exhibition Details **
Date : 1 April – 16 April, 2023
Time: 11:00 a.m. to 5:00 p.m.
Venue: SGM Culture Centre, Chang Feng Hall(Lot 960, KM14, Batu 9, Cheras, 43200 Selangor.)
Prior appointment is required for groups of more than 10 people. Please get in touch with us >>
** SOHA exhibition online opening ceremony details ** (by registration)
Date : 1 April, 2023
Time: 3:00 p.m.
Venue: SGM Culture Centre, Chang Feng Hall(Lot 960, KM14, Batu 9, Cheras, 43200 Selangor.)
Medium: English
Registration link: https://b.link/reg-SOHA-launching
SOHA exhibition related promotional materials on SGM Faceboook
SOHA exhibition related promotional materials on SGM Instagram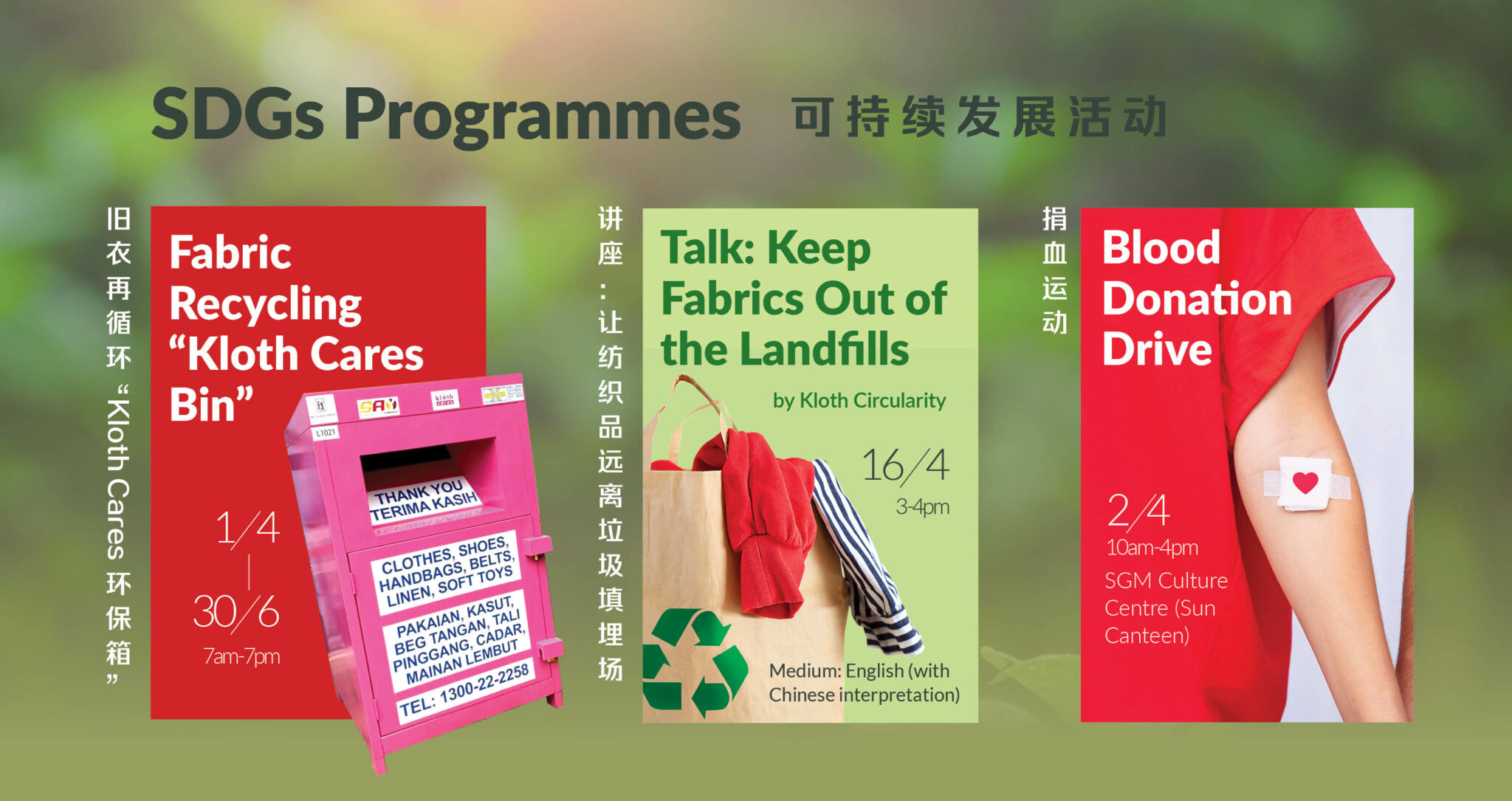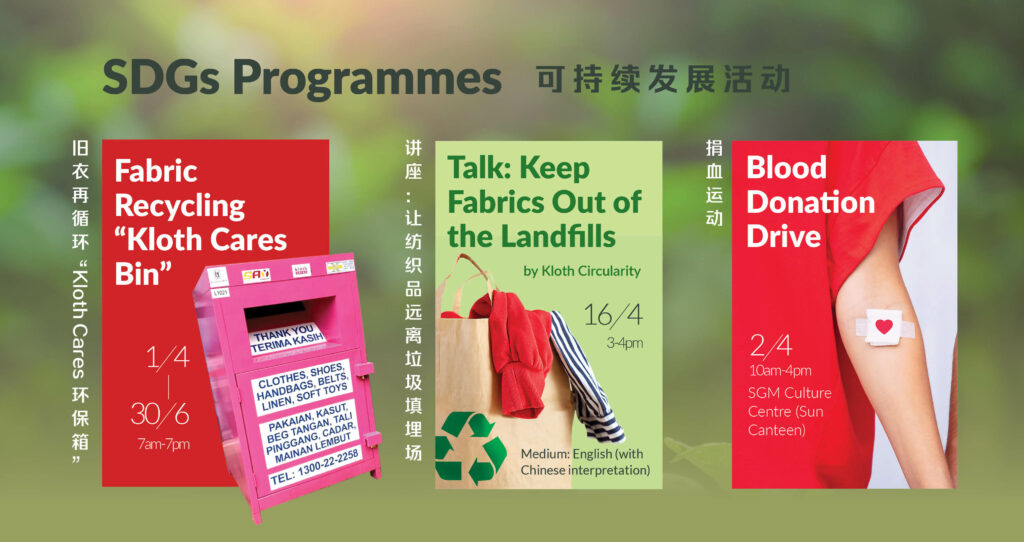 SDGs Programmes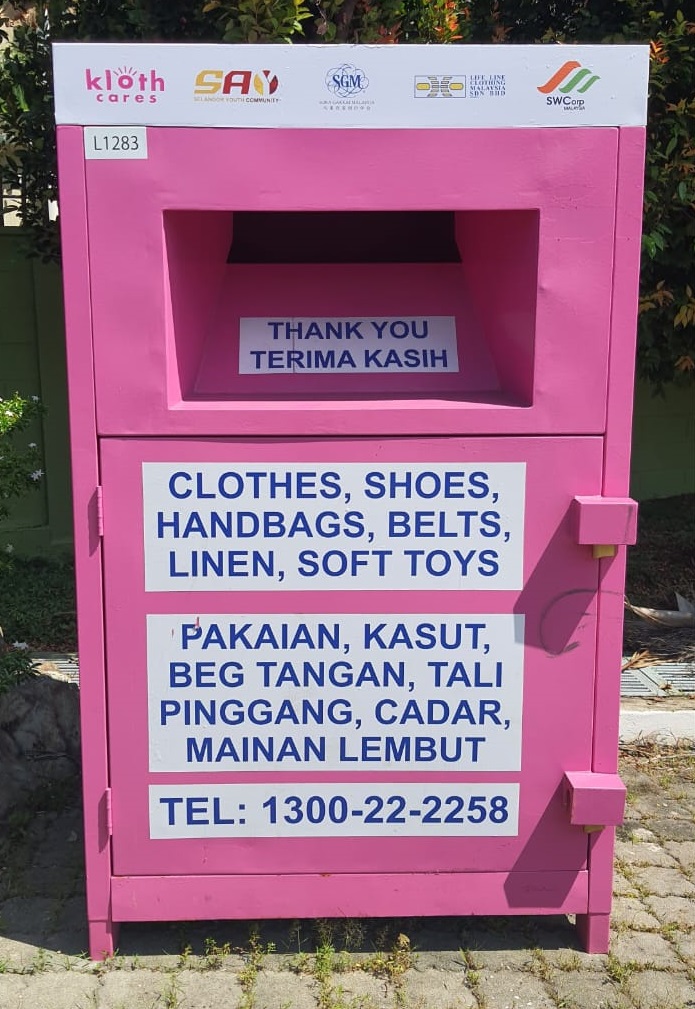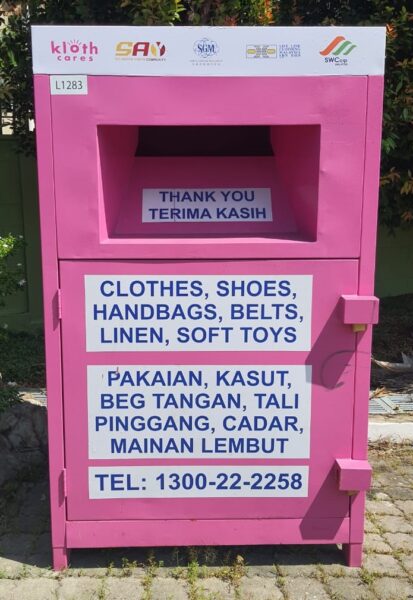 Activity ①: Fabric Recycling Campaign with "Kloth Cares Bin"
In conjunction with the SOHA exhibition, SGM collaborates with "Kloth Circularity", the first fabric recycling campaign organisation in Malaysia to install a Kloth Cares Bin at the SGM Culture Centre in Cheras, promoting sustainable fabric waste management for all. You can dispose of your unwanted clothes, sheets, curtains, and other fabrics by simply placing them into the bin. The collected fabric waste will be repurposed, promoting economic circulation and contributing to SDG 12: Responsible Consumption and Production.
"Kloth Cares Bin" details:
Date: 1 April – 30 June, 2023 (duration of 3 months)
Time: 7 a.m. to 7 p.m.
Venue: SGM Culture Centre (located near the Administration Office)
More about Kloth Cares Bin on SGM Faceboook
More about Kloth Cares Bin on SGM Instagram
Activity ②: "Keep Fabric Out of the Landfills" Talk (by registration)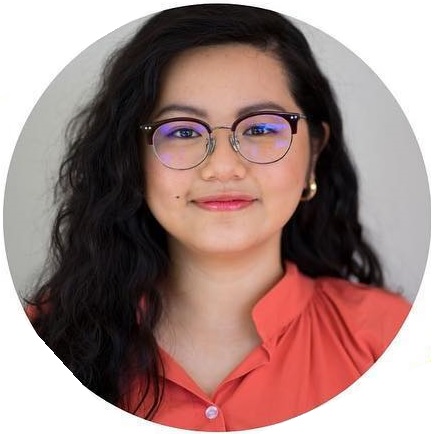 Join us as we explore ways to give our old clothes a new purpose! We will discuss eco-friendly ways to keep your fabrics out of landfills. Through donating, recycling or reusing old fabrics, you can contribute to sustainable development! We look forward to seeing you. Let's act now to protect our precious earth!
Details of the talk:
Date: 16 April, 2023 (Sunday)
Time: 3 p.m. to 4 p.m.
Venue: SGM Culture Centre, Chang Feng Hall
Speaker: Adelyn Ghwee from Kloth Circularity
Medium: English (with Chinese Interpretation)
Registration link: https://b.link/reg-SOHA-talk
"Blood Donation Revitalises Life" Blood Donation Drive (by registration)
SGM Kuala Lumpur Branch co-organises with the Lions Club of Kuala Lumpur North a blood donation campaign to support and increase the blood reserve for the blood bank at the hospitals.
Date: 2 April, 2023 (Sunday)
Time: 10:00 a.m. – 4:00 p.m.
Venue: SGM Culture Centre, Sun Canteen
Registration: From March 20 to April 1, 2023, Pre-registration via Google Link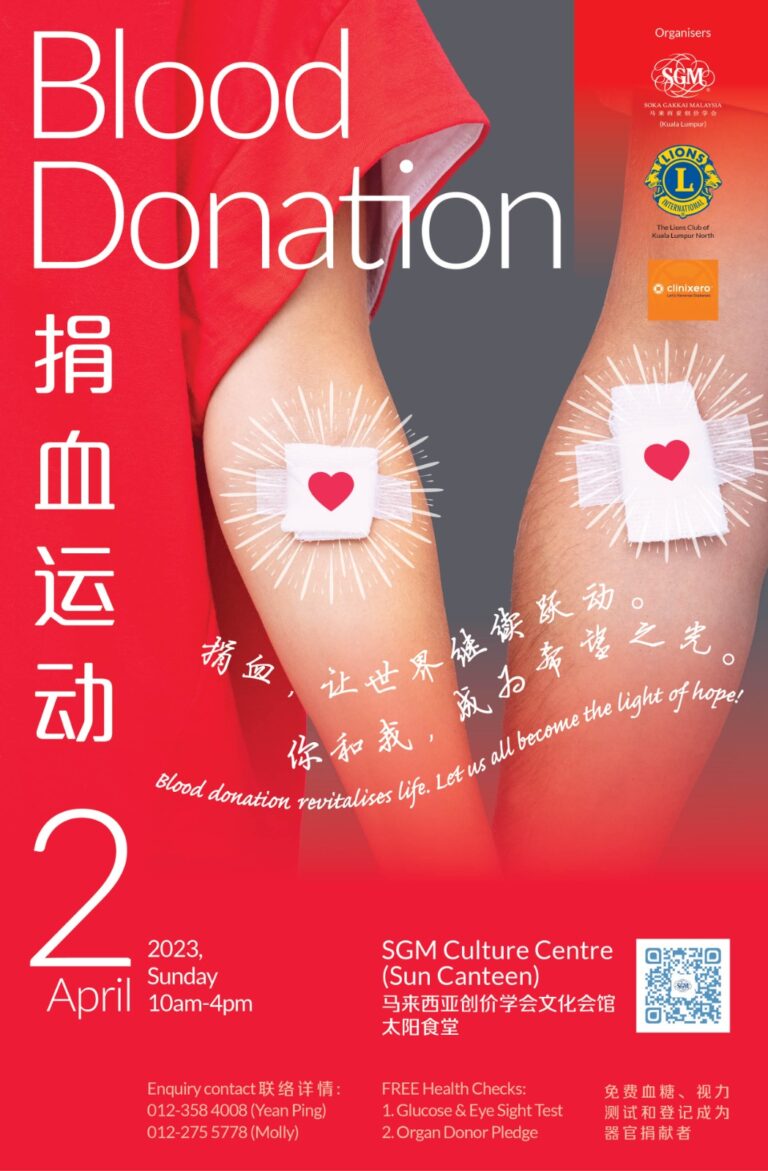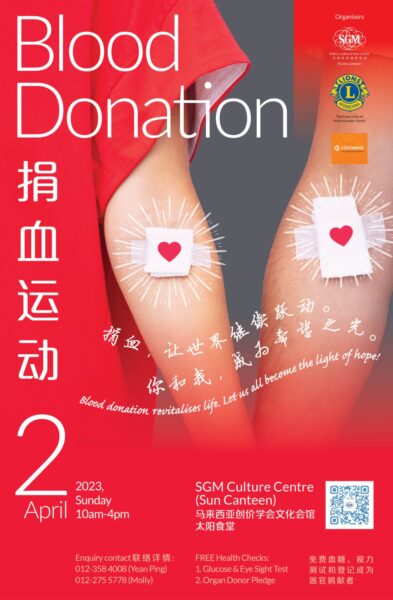 Remarks: Free tests for blood glucose and eyesight will be provided, along with registration services for organ donor pledges.
Blood donors must comply with the following matters:
I. Pre-registration for this event is required.
a) To lighten the burden of the medical staff and to ensure a smooth flow of the blood donation campaign, those who intend to donate blood must register in advance.
b) Please select the available date/time slots. As there are limited places for each time slot, registration will be on a first-come, first-served basis. Registration will be open until all slots are taken.
II. Blood Donor is requested to bring the following documents:
a) Original Identity Card (IC), photocopy will not be accepted.
b) Blood Donors Book (PDN2) for frequent blood donors.
c) For foreigners, you must live in Malaysia for more than 1 year and must bring along original passport or work permit or student pass with passport number and photograph.
III. As a reminder, here is a list of basic criteria for Donors
a) Age 18 to 60 years old,
*For the 17 years old – must obtain parent's or guardian's written consent;
b) Good health condition and not involved in any unhealthy activities;
c) Body weight of 45kg and above;
d) Consumed some light meals before donating blood;
e) Currently not on any antibiotics;
f) Enough sleep with at least 5 hours and above the night before;
g) Time gap of 3 months from your last blood donation;
h) Those with epilepsy, high blood pressure and diabetes patients, pregnant women and those with menstruation are not allowed to donate blood.
Your effort in promoting and encouraging your family members and friends to participate in this blood donation campaign is highly appreciated!
Let's take action now, invite our relatives and friends, and protect the planet that we cherish together!