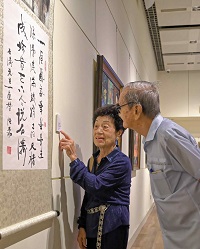 On August 3, 2019, the opening ceremony of "The Beauty of 80 – Negeri Sembilan Senior Artists Group Exhibition" was held to great response at Wisma Kebudayaan SGM. This exhibition showcased the works of five Negeri Sembilan artists namely Lok King Wah, Dato' Loke King Loong, Dato' Lee Choon[1], Sia Boon Chuan and the late Lim Peng Fei (1934–2015), exhibiting close 60 of their artworks.
The artists are all senior citizens aged 80 to 90 years old (Lim Peng Fei passed away at the age of 81). They have known each other since young and shared many common interests too. They loved art and also studied in Taiwan. Though they worked in various fields after returning to Negeri Sembilan, their passion for art never faded and their friendship grew stronger with each passing year.
The ceremony began with a harmonica performance, followed by welcoming remarks from SGM president Michael Kok. He stated that he was amazed by the five artists' friendship, which has lasted for 70 years. He also praised their spirit of always leaning and moving forward, and shared words by SGI President Daisaku Ikeda on staying youthful.
Next, in his opening speech, Yayasan Budi founder and chairman Tan Sri Dato' Seri Utama Dr Rais Yatim said that he was delighted to be invited to this exhibition organised by SGM. He praised SGM for its efforts in promoting art and culture, and expressed his admiration for the five artists. He also stated that the artists efforts can help instil values of humanism in visitors.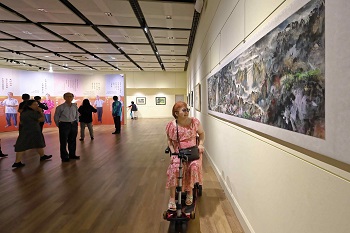 Guests present that day included the four artists; Lim Chi Fatt, son of the late Lim Peng Fei; Tan Sri Kamarul Ariffin Bin Mohamed Yassin, former chairman of the Board of Trustees for the National Art Gallery; Mohd Radzi Omar, director of the National Department For Culture And Arts (Negeri Sembilan office); Prof Lin Bo-Ting, former deputy director of Taiwan's National Palace Museum; Michael S.Y. Yiin, deputy representative of the Taipei Economic and Cultural Office in Malaysia and representatives from several schools in Negeri Sembilan. In total, the ceremony welcomed some 400 guests.
When interviewed, Prof Lin said that this exhibition not only reflects the achievement of arts and culture, but also the warmth of friendship. He also praised SGM for holding this meaningful event.
Meanwhile, Mr Mohd Radzi was glad to see that elderly artists are still active in the local art field. He commented that SGM has been giving their full support to various events organised by the government which helps to build a better society.
In accord with the exhibition, a series of side activities were held as well, such as outdoor sketching in Negeri Sembilan, reading of picture reading books to parents and children and senior citizens sharing their experiences.
The exhibition was held from August 3 to September 1, and attracted close to 1,800 visitors.
[1] Dato' Lee Choon passed away on August 29 during the exhibition period.