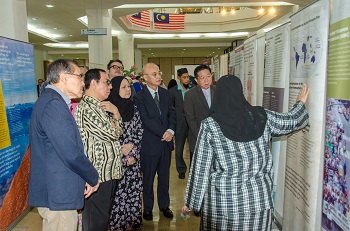 In a joint initiative by Soka Gakkai Malaysia (SGM) and International Islamic University Malaysia (IIUM), the "Everything You Treasure – For a World Free from Nuclear Weapons" (EYT) exhibition, created by Soka Gakkai International (SGI) and the International Campaign for the Abolition of Nuclear Weapons (ICAN), was held at the foyer of the Dar al-Hikmah Library in IIUM Gombak campus from August 6 to September 13. The exhibition was also held with the aim to create greater awareness on the importance of peace and the abolition of nuclear weapons.
In his remarks, SGM Deputy President Johnny Ng Teck Sim emphasised the importance of peace and the origin of SGI's peace movement, which began when second Soka Gakkai president Josei Toda made his historic Declaration Calling for the Abolition of Nuclear Weapons on September 8, 1957. Mr Ng reminded the audience of the preciousness of life, our inviolable right to life and ability to abolish nuclear weapons. He also spoke on SGI President Ikeda's tireless efforts for peace and hoped that through the exhibition more people would learn about the dangers of such weapons and be enabled to take part in abolishing them, ensuring that such a tragic history will never be repeated.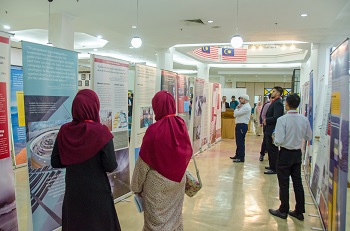 In his speech, IIUM Rector Prof Emeritus Tan Sri Dato' Dr Dzulkifli Abdul Razak related his late father's experience of surviving the atomic bombing of Hiroshima and the vast devastation and horrors he witnessed in the aftermath. He also spoke about the sufferings the victims undergo even after 74 years have passed. He urged the audience to find peace within themselves first as this will allow them to gain happiness and ensure that no nuclear bombs will ever be employed in the future. 
Mr Hiroyuki Orikasa, Deputy Chief of Mission and Minister Counsellor of the Embassy of Japan in Malaysia was on hand to officiate the EYT exhibition on August 6 – the anniversary of the Hiroshima bombing. In his speech, he stated that to create a world free from nuclear weapons, it is vital for everyone to have thorough knowledge of these weapons, why they were used and the devastating effects. He commended the SGI for co-producing this important exhibition and for bringing messages of peace to numerous locations, widely reaching out to various peoples around the world and passing on such knowledge to future generations. Having worked in war zones before, he pledged that Japan will do its utmost to build a world free from nuclear weapons.
After officiating the exhibition, guests were taken on a tour of the exhibition held at the foyer. Also representing SGM were SGM president Michael Kok, Assistant Chief Administrator Looi Chee Choong and Head of SGM External Affairs and Communications Department Joanne Foo. Dignitaries attending the launching included the director of the Japan Foundation, Kuala Lumpur Mr Shimada Seiya, IIUM Chief Librarian Hajjah Sarifah Abdullah, IIUM deputy rectors, staff and students. Some 20 IIUM students participated in the narrator training for this exhibition.