Starting from December 25, 2020, video screening sessions commemorating the 60th anniversary of SGI President Ikeda's inauguration as the third Soka Gakkai president were held around the nation.
Titled "Commemorating the 60th Anniversary of Ikeda Sensei's Inauguration as Third President of Soka Gakkai – Taking Leadership for Kosen-rufu," the video presented contents which included some precious photographs and audio recordings being displayed for the first time ever; advancing the kosen-rufu movement after second Soka Gakkai president Josei Toda's passing; how President Ikeda took actions based on the stand-alone spirit and the development of kosen-rufu.
The video is aimed at members embarking on a new journey together with the mentor towards the 100th anniversary of Soka Gakkai's founding.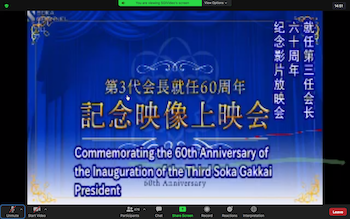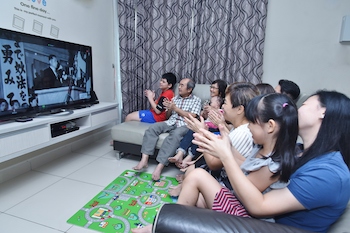 In conjunction with the screening session, from January 2, 2021 onwards, "The New Human RevolutionGeneration" morning study session will also begin, aiming at deepening the bond between mentor and disciple.
Young women's division member Heah Weng Yan from Penang said, "I was excited about the fact that Ikeda Sensei was determined to actualise his mentor's vows. Especially on the part when commemorating the 13th anniversary of Mr Toda's passing, I was deeply touched by the disciple's emotional sentiment towards his mentor. I, too, as his disciple, am determined to earnestly actualise Ikeda Sensei's guidance."
Young men's division member Lim Ken from Negeri Sembilan mentioned that, "I have learned the attitude of a disciple from Ikeda Sensei. The part where he made his vow has deeply touched my heart. I am determined to challenge myself in engaging in dialogue with the spirit of oneness of mentor and disciple."