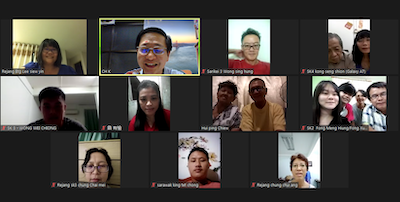 Sarawak
May 3 is Soka Gakkai Day. This year's May 3 also marks the 60th anniversary of President Ikeda's inauguration as third Soka Gakkai president. In May, members all over the country celebrated this auspicious day while having the monthly discussion meeting. Through studying the spirit of May 3, members deepened their bonds with our mentor and were determined to fight for others' happiness for the rest of their lives.
In the meetings, participants learnt the Gosho passage "The Essentials for Attaining Buddhahood" which says that "the Mystic Law is the original seed of Buddhahood that enables all people to attain buddhahood." Through sincere dialogues, we can sow the seed of happiness in our friends' lives.
Members also shared their experiences and challenges faced during the Movement Control Order (MCO) period. Len Siew Ngo from Kota Kinabalu Central region (on May 15) said that she overcame her insomnia and other health problems. She was able to encourage her relatives who face similar problems using her own experience.
In Penang, Mah Tze Wen from Ayer Itam (on May 21) said that through chanting abundant daimoku, she was able to absorb more knowledge taught in online classes. She was determined to study seriously and will pray hard for the end of the pandemic. Also, Lim Chee Tat from Jelutong (on May 22) shared how he overcame financial problems and achieved another victory. Meanwhile, Lim Show Yean from Sungai Nibong (on May 22) shared that she had improved her relationship with her family through realising her human revolution.
| | |
| --- | --- |
| | |
| Sabah | Penang |
| | |
In Sarikei, Sarawak, the members faced technical problems due to poor network quality. However, on May 22, young men's division member King Tet Chong and two new members together with their families held an inspirational online discussion meeting.
The members were happy to see their comrades-in-faith during the MCO period. Many members also chanted abundant daimoku and prayed hard for the pandemic to end as quickly as possible.