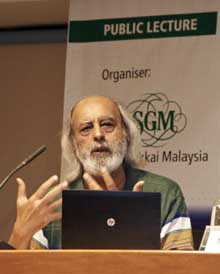 On April 16, 2011, Mr Gurmit Singh delivered an enlightening lecture titled "Making Sustainable Development Happen" at the International Conference Hall, Wisma Kebudayaan SGM.
Better known as an environmentalist and social activist, Mr Gurmit Singh is outspoken and has organised seminars, workshops, and forums to address environmental issues in Malaysia. Currently, he is the Chairman of the Centre for the Environment, Technology and Development, Malaysia (CETDEM), a non-profit organisation that provides consultation on improving environmental quality through use of technology and sustainable development.
He began by pointing out the signs of environmental degradation such as polluted rivers, flash floods, extremes in weather changes and shortages of usable water evidently brought about by unsustainable development.
He also highlighted how our modern lifestyle is aggravating the damages and proposed some practical ways which the masses, amidst our hectic schedules, can do to help stop the process. Walking more often, replacing plastic bags with recyclable bags and recycling our wastes may be common advice but the audience were reminded afresh of the importance of doing so. By comparing the carbon footprints a person produces while using different modes of transportation, he drove home the urgent need to rely less on vehicles. He also advocated recycling as the last resort as he believed that redirecting our thinking and minimising our wastes were much more efficient. Despite being in his advanced age of 68, he still uses public transport whenever he could, living the way he advocates.
He has also been awarded the distinguished Langkawi Award in 1993 from the Malaysian Government. In 2008 and 2009 respectively, he received the Sustainable Consumer Award from the Malaysian Government and the Outstanding Contribution Towards Sustainability Award from the Institution of Surveyors, Malaysia.

video clip