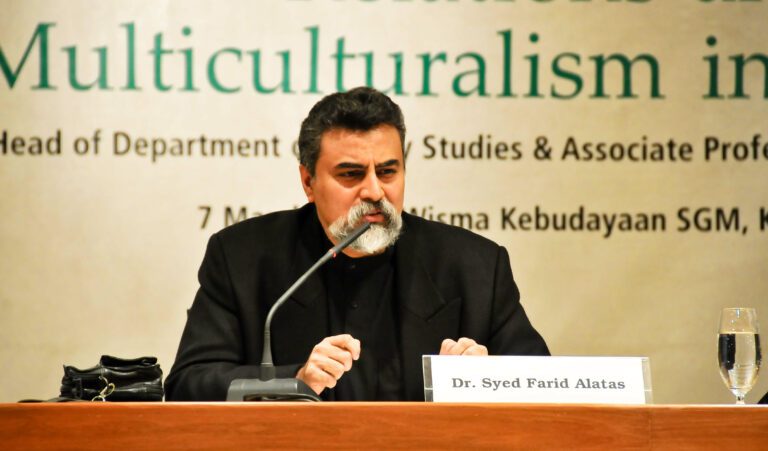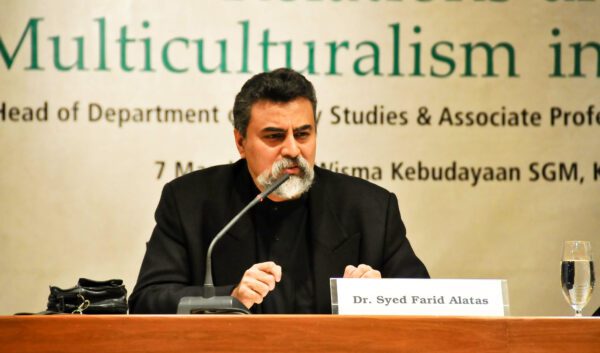 On March 7, 2009, Soka Gakkai Malaysia (SGM) organised a public lecture at Wisma Kebudayaan SGM, Kuala Lumpur. Dr Syed Farid Alatas, associate professor and head of the Malays Studies Department at the National University of Singapore spoke on "Inter-Ethnic Relations and the Need of Multiculturalism in Malaysia." The lecture was chaired by S. Radhakrishnan of the Gandhi Memorial Trust.
In his lecture, Dr Syed Farid Alatas first addressed the issue of inter-ethnic relations in Malaysia and the need to foster greater understanding about each other. "We should begin with understanding, knowing what is lacking in our understanding before we talk about creating a society that is based on the spirit of multiculturalism." Using various examples, Dr Syed Farid shared that a large bulk of the misunderstanding came from myths and stereotyping that have been internalised into the lives of the Malaysian people over a period of 150 years since the colonial period. This situation has been worsened with manipulation by various groups. Breaking down stereotyping would be one of the great challenges to building a multicultural society.
Dr Syed Farid then spoke about the need to understand the very idea of "multiculturalism" itself. Agreeing with Mr Ikeda who said, "We must rethink the either-or pattern of thinking itself – either "clash" or "coexistence" of civilisations. Even if coexistence were realised, it would not benefit humankind insofar as civilisations simply remained existing side by side." Similarly, Dr Syed Farid feels that the idea of the genuine multiculturalism does not refer merely to the peaceful coexistence of different cultures within a country. "We should celebrate our diversity. In genuine multiculturalism, diverse ethnic and religious groups thrive by learning from each other.
| | |
| --- | --- |
| | |
As for the way forward, he pointed out that nurturing a multicultural society requires a revamp of the education system. Multiculturalism should be reflected in the education system from the time the children are young. Dr Syed Farid shared three aspects of multicultural education that needs to be emphasised. The first aspect is to understand the close interactions that had existed between various civilisations in the past and how each had influenced the development of the other. The second aspect is to foster the ability to see things from different points of view, in order to appreciate the values of other cultures. The third aspect is to understand that modern civilisation is fundamentally a product of the interactions between all civilisations.
Dr Syed Farid further said, "We need to develop an education syllabus that reflects the contributions of all culture and civilisations to the development of Malaysia." Furthermore, he said that multicultural education has the potential to teach children the universal ideals of excellence inspired by all the different civilisations. There is much to learn from the examples of excellent leaders of the past, and how they have contributed to the development of their societies. In this way, children would not only be inspired to adopt ideals of excellence in their lives, they grow up with great respect and admiration for other cultures and civilisations.
The lecture was attended by about 130 people. Among those who attended were H.E. Dr. D.D.Ranasinghe, High Commissioner of Sri Lanka, H.E. Mohammad Yunos Farman, Ambassador of Afghanistan, Datin Paduka Mother Mangalam, President of Pure Life Society, Datuk Muhammad Feisol Hassan, President of Royal Commonwealth Society, Puan Zanita Anuar, Director of Research & Exhibition, National Art Gallery, academicians, diplomatic corps, representatives from Inter-Faith Spiritual Fellowship (INSAF) / Malaysian Interfaith Network, members and friends of SGM.