Soka Gakkai Malaysia (SGM) members were given a rare opportunity to understand more about Confucian thoughts and philosophy when Professor Tu Wei-ming from Harvard University gave a lecture on "Dialogical Civilisation and the Great Unity of the World" at Wisma Kebudayaan SGM, Kuala Lumpur on August 23, 2008.
More than 500 turned up for Prof Tu's lecture, but only 300 over were able to sit in the auditorium while the rest had to view the lecture through live video feed.
During the lecture, Prof Tu shared his insights into how the ancient philosophy of Confucianism could be applied to our current situation. Although he lived some 2,500 years ago, Confucius is widely revered among the Chinese, and still commands a special respect among the people.
A dialogical civilisation can resolve tension, contradiction and conflict, and create harmony and unity in the world. "Harmony" can only be developed if differences are recognised. In discussing social harmony, he shared the Confucian ethics of "public" and "private" moralities, of how a correct understanding of this ethic can help to restrict self-interest, and cultivate a spirit of putting the others before the self.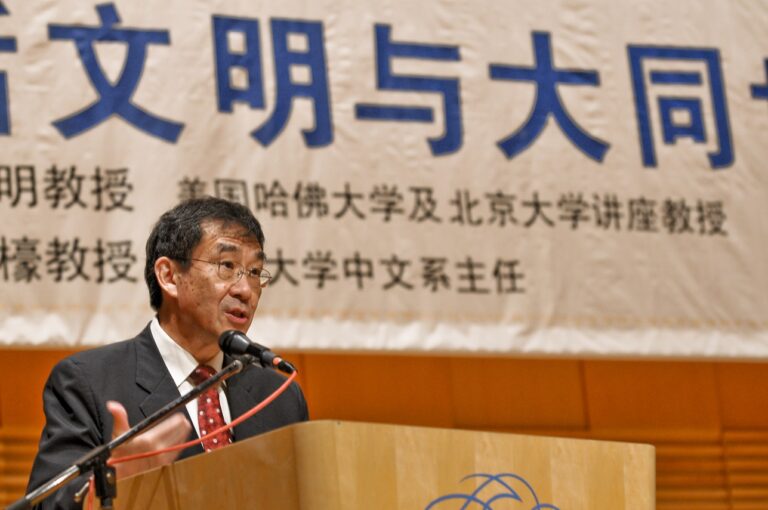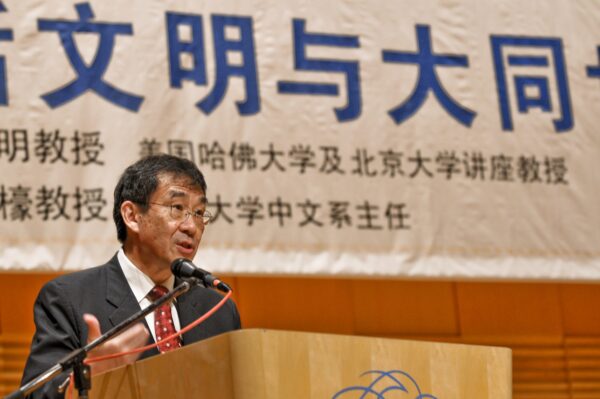 He also talked about the oneness of man and the cosmos, the relationship between man and the world he lives in. While man and nature may seem distinct, they are actually inter-related in every way.
The lecture was jointly organised by Soka Gakkai Malaysia and Universiti Tuanku Abdul Rahman (UTAR), and sponsored by the Lam Kin-chung Morning Sun Charity Fund and Dr. Ho Hau-wong.
Prof Tu is a Professor of Chinese History and Philosophy and Confucian Studies at Harvard University and chair professor at Peking University. Born in 1940 in Kunming, China, he grew up in Taiwan and obtained a BA in Chinese Studies from Tunghai University. He received his PhD from Harvard University in 1968. Tu has been in the Harvard faculty since 1981. He has taught Chinese intellectual history, philosophies of China, and Confucian humanism. He also taught at Princeton University, the University of California in Bekerley, Peking University, Taiwan University and the Ecole des Haute Etudes in Paris.
In 2007, Prof Tu's dialogue with SGI President Ikeda was published (Japanese edition). He remarked, "SGI President Ikeda and I strongly believe that a dialogical civilisation is emerging. We are committed to the view that the cultivation of a wholesome dialogical civilisation is the right path toward a culture of peace for the global village." For Prof Tu, dialogue is not merely an instrument for achieving some noble goals such as peace but an intrinsic value for human self-understanding. He believes that dialogue is a way of life. Therefore, he states, "We need to deepen and broaden our dialogical experience to make our life more fruitful and creative. Dialogue helps us be more tolerant, accepting, respectful, receptive, open-minded and compassionate. Through dialogue, we learn the art of listening, talking, communicating and self-reflection. It is a form of spiritual exercise that we should practice every day."
On the same evening, SGM presented Prof Tu with the "Hibiscus Award," in appreciation of his contribution and efforts for culture and education.