| | |
| --- | --- |
| | |
| Interactive session 1 – The Way Forward for Peace and Education | Interactive session 2 – The Way Forward for Culture and Arts |
On 27 November 2021, Soka Gakkai Malaysia (SGM) held a commemorative online event marking the 20th Anniversary of Wisma Kebudayaan SGM (WKSGM). The event, themed "Embracing Our Shared Humanity," attracted more than 1,600 participants including foreign dignitaries, academicians, artists, friends from NGOs and other institutions as well as SGM members across the nation.
In his welcoming remarks, SGM President Mr. Michael Kok shared that, "believing that art, culture and education rooted in humanism has the power to contribute to peace, Wisma Kebudayaan SGM has hosted more than 500 events, including exhibitions, public lectures, interfaith dialogues and cultural performances since its opening. He expressed heartfelt gratitude to all who have rendered great support to SGM over the past 20 years.
The event also involved interactive sessions with eminent guests: H.E. Florentino Batista Gonzalez (Ambassador of the Republic of Cuba), Prof. Emeritus Tan Sri Dato' Dzulkifli Abdul Razak (Rector of the International Islamic University Malaysia), Prof. Dr. Azizan Baharuddin (Director of Centre for Civilisational Dialogue, University of Malaya), Dr. Mok Soon Chong (Vice Chancellor of New Era University College), Dr. Choong Kam Kow (Chairman, Federation of Artists Association – Malaysia Committee) and Ms Anna Karina Jardin (Artist and Founder of Artdialogo Asia). Commending SGM's remarkable efforts over the past 20 years, they held great hopes that WKSGM will continue to develop and flourish as a space of cultural and peace exchanges, paving the way to create a peaceful society and nation of harmonious co-existence.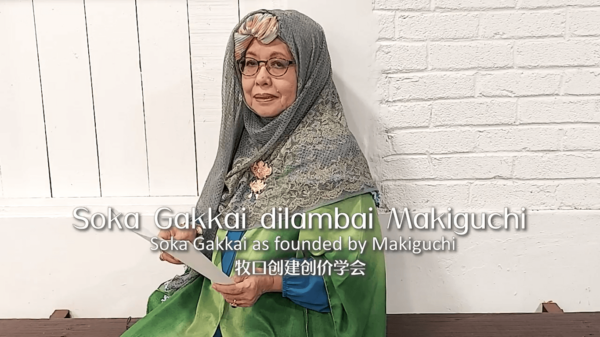 Recital by Malaysia's Poet Laureate Datuk Prof. Dr. Siti Zainon Ismail
Another key highlight was a moving recital by Datuk Prof. Dr. Siti Zainon Ismail, Malaysia's Poet Laureate who had specially composed a poem titled Our Universal Humanity in honour of SGI President Ikeda's peace ideals. She poetically conveyed the humanistic values of Love, Culture, Education, Humanity, Peace and Prosperity as imbued in the activities of WKSGM, which are essential to the current world.
The event also saw the launching of SGM's first virtual art exhibition titled Blossom of Hope. Despite the pandemic, the new virtual exhibition will allow the appreciation for art to reach more people. The event ended with a commemorative speech by SGM General Director Mr. Koh Sia Feai. Emphasising on the mission of WKSGM to build peace, construct human happiness and to serve the people, Mr. Koh said that these are also the mission and spirit upheld by the Soka Gakkai.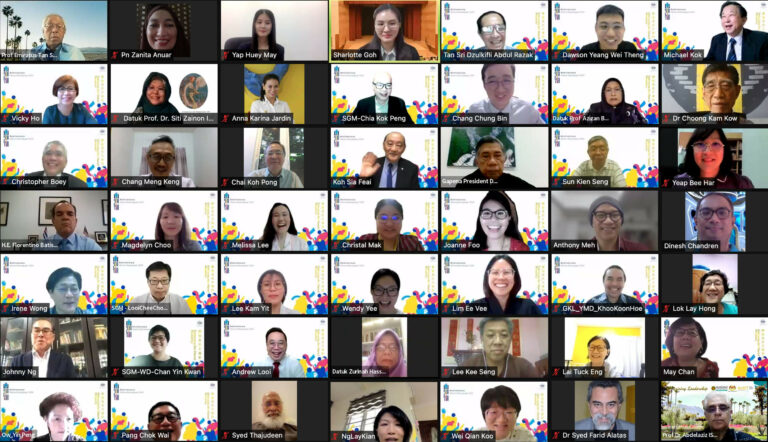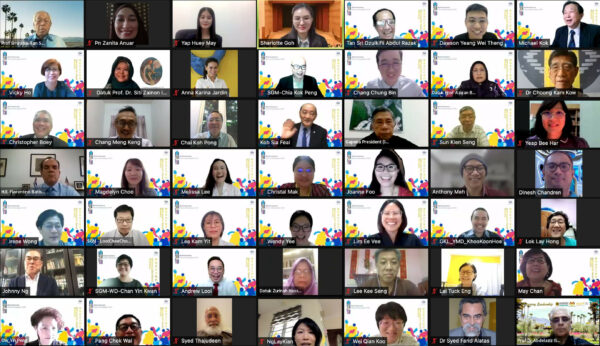 Gracing the event were the congratulatory wishes by distinguished guests from foreign dignitaries, government bodies, scholars, cultural figures, artists and peace activists. A selection of the wishes are as follows:
Prof. Emeritus Tan Sri Anuwar Ali, Former President of Open University Malaysia and now Chancellor of University of Cyberjaya:
I congratulate SGM for having accomplished the ideals of SGI President Ikeda by organising successfully a substantial number of multicultural events. These accomplishments bear testimony to SGM's conspicuous role in contributing to a more harmonious society via cultural and educational programmes, reflecting the diversity of Malaysia's multi-ethnic population. It also shows the commitment of SGM members to its vision and mission.
Prof. Huang Kuan Nan, Chairman of Tainan Art Museum:
In upholding the ideals of freedom, peace and love for humanity advocated by President Ikeda, SGM has done a great job in promoting education and culture among the public.
Dr. Ronald McCoy, Former Co-President of the International Physicians for the Prevention of Nuclear War:
I would like to thank you for all your support in global nuclear disarmament over the years. Particularly, in securing the signing of the Treaty on the Prohibition of Nuclear Weapons.
Dr. Nagulendran Kangayatkarasu, Deputy Secretary General (Planning and Culture of Science), Ministry of Science, Technology & Innovation (MOSTI):
Congratulations on the 20th anniversary of Wisma Kebudayaan SGM. May SGM, through Wisma Kebudayaan, continue to play a huge role via arts, culture and education programmes in promoting a peaceful and inclusive society in the context of "Keluarga Malaysia."