I am a wastewater engineer. As a city develops, its wastewater also increases. As such, wastewater management is directly connected to the sustainable development of a city. Hence, my work is closely associated with environmental sustainability.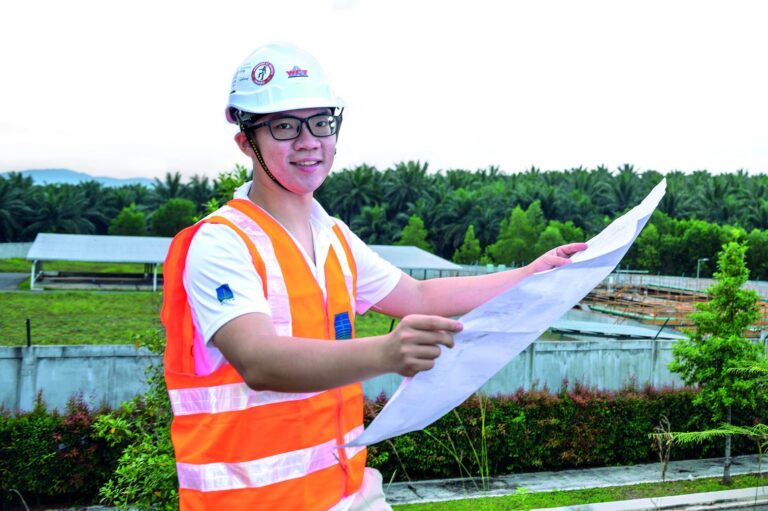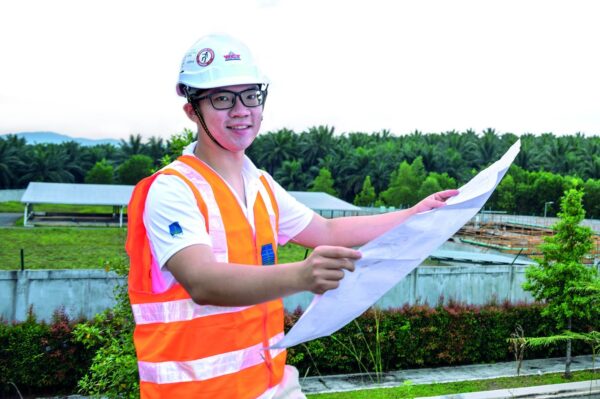 Setting Life's Objectives
I began practising Nichiren Buddhism since young along with my mother. I grew up under the care of Soka Gakkai Malaysia members, especially in the gymnastics group where I developed a resilient spirit.
My performance in secondary school was average and so was my attitude towards learning. However, I began to study hard in university, setting greater goals to challenge myself. I graduated with first-class honours and was exempted from repaying my study loan, achieving one of my prayer objectives.
I involved myself in various SGM activities such as discussion and study meetings, and learnt not only the philosophy of life but also good communication skills  which are crucial in work and everyday life.
I also participated in SGM's peace, culture, and education activities. Through these activities, I came to know about various global issues such as the abolition of nuclear weapons and environmental protection, thus widening my horizons. In particular, the "Seeds of Change" and "Seeds of Hope" exhibitions organised by SGM allowed me to learn about the increasingly serious environmental problems we face. As such, I chose to study environmental science in university, pledging to work for the protection of the environment.
Praying with Strong Determination
As I came to be involved in wastewater management, I studied for a Master's degree in environmental engineering to improve my knowledge and skills. Upon graduation, I was in high spirits to look for a job.
However, I faced tremendous difficulty. I sent out nearly 80 application letters to no avail. Competition was intense.
The long wait for response to my job applications tormented me. I told some seniors in the young men's division that I want to abandon my dream and take any available job.
Upon coming home, I resolved to stay committed to my plan and prayed wholeheartedly for its realisation. Nichiren Daishonin teaches, "It is the heart that is important." (WND-1, pg 1000) Soon, I received a letter from a wastewater company asking me to go for an interview. There, I spoke passionately about environmental protection and was employed!
Creating My Own Values
Two years into my job, I was hoping to make a bigger breakthrough in my career. I began searching online and found a multinational company specialising in wastewater treatment.
Nearly a month after submitting my job application, I still did not hear from the company. However, I refused to give up and continued to chant for it until I was contacted for an interview. I demonstrated my professional knowledge and passion for wastewater treatment during my two rounds of interviews, and eventually secured a job offer.
During the probation period, I worked diligently and my efforts were recognised by my superiors. I even received a bonus during the probation period. When I was confirmed, I was given an increment of 20%. The outcome was such because I cherished the job and strived to create values in my workplace.
"Determination is like a root that usually can't be seen. If its roots are strong, a plant will be able to flower. Flowers bloom because of the roots. Youth is the time to cultivate the roots of determination. As long as you patiently keep trying to do your best, continuing to rouse your determination with an invincible spirit and rising to the challenge again and again, you will succeed in creating a brilliant future for yourselves." This is my favourite guidance from SGI President Daisaku Ikeda.
Practising Nichiren Buddhism and reading Mr Ikeda's guidance have taught me to face all challenges in life with a strong determination. I have learnt to chant vigorously to break through obstacles and turn the present moment into a moment of triumph.
My current work projects include the treatment of wastewater from petrochemical and semiconductor industries, which contain harmful chemicals and heavy metals that are health hazards. Therefore, we need to treat the wastewater before it is released into rivers. The Ministry of Environment and Water in Malaysia strictly regulates wastewater management and every factory is required to have its own wastewater treatment system.
If industrial wastewater is not properly treated, water pollution and other environmental issues would follow and leave impacts on ecosystems.
Aspiring to contribute to society, I have a strong sense of mission.
Contributing to Promoting the Sustainable Development Goals (SDGs)
The general public may not be familiar with the SDGs and environmental protection issues. In fact, many people are concerned about climate change, but they do not know what to do about it. Some simple actions include paying sewerage bills on time and not wasting water.
Water is crucial for human existence. One of the SDGs is "clean water and sanitation for all." However, sources of potable water in the world are scarce and thus very valuable.
Considering water is at the core of sustainable development, I believe "reclaimed water" could be the primary source of water in the future. We could recycle wastewater and turn it into clean reclaimed water. Factories could use it as an alternative water source instead of relying on natural water sources such as rivers. This approach would also safeguard our natural sources of drinking water.
I believe people need to take action to realise the SDGs. I hope to live a life of value and contribute to society by sharing my knowledge and experience, as well as becoming the "light of hope" for others.
Adapted from Cosmic January 2022