It's time for school again! Tadika Seri Soka (TSS) opened its doors for the 2017 schooling year with its 23rd entrance ceremony, welcoming 137 bring and lively new children.
In her speech, TSS principal Lye Loy Hou warmly encouraged the children to play, learn and enjoy themselves to their hearts' content at TSS. She also urged the children to make three promises of TSS with founder Mr Daisaku Ikeda, that is to be in high spirits every day, say "thank you" to everyone courteously and cherish their friends. Finally, she asked the parents of the children to play an active part in TSS' activities.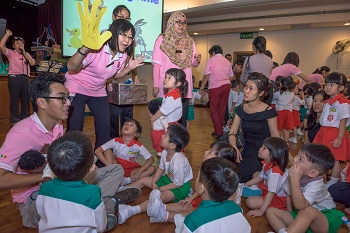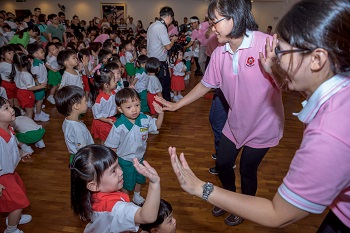 In his speech, TSS adviser Koh Sia Feai expressed his appreciation to the parents for sending their children to TSS. He said that the mission of TSS is to provide a holistic and learning environment for the children and the kindergarten will definitely watch over the children's growth. He hopes that the children will learn from and help each other, and lead a fulfilling life during their time at TSS.
The TSS founder also had presents for all the new students, which were handed out to them at this ceremony. The teachers also entertained the parents and children with joyous song and dance performances. Finally, they put a sketch titled "Let's Follow Teacher!" to tell them of the joy of being at TSS.