On March 7, 2021, SGM organised an online kick-off meeting for the student and future divisions, or known as the three divisions, fostering campaign for some 1,600 participants from around the country.
SGM junior division committee leader Joanne Foo introduced the significance, guidelines and core activities of the three divisions, while student division leader Koay Chen Yeong and future division leader Siow Yoon Kee spoke on the challenges and solutions while fostering them. They also urged the participants to work on ensuring no one will be left behind and that everyone will grow together.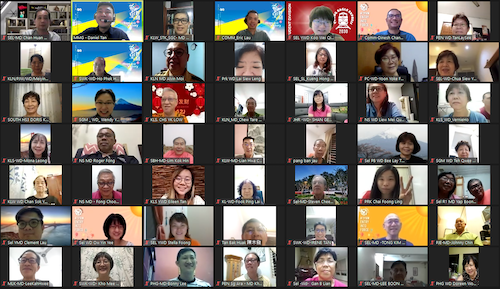 Representatives from the three divisions also shared their impressions of fostering capable people. Women's division member Ng Lay Fang spoke on how she and other persons-in-charge overcame the challenges faced when holding online junior division meetings and young women's division member Ng Xin Pei shared how she encouraged a high school division member to join SGM activities. Liew Sweet Yun from the men's division spoke on how he helped fostered student division members, while Chia Ching Feng, one of the youths that Liew fostered, spoke fondly of his experience in being fostered.
In wrapping up, SGM youth division leader Andrew Looi said that an excellent senior-in-faith is like possessing a valuable treasure. He encouraged the participants to strive in fostering youthful successors and enable them to become capable people with lofty characteristics.