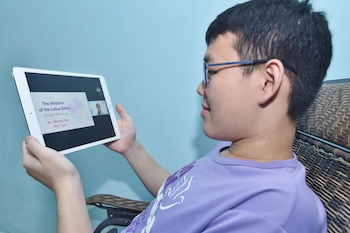 On June 26, the second The Wisdom of the Lotus Sutra study meeting of 2021 premiered on the SGM Broadcast Channel Official on YouTube. The meeting, streamed in both Chinese and English, received an encouraging viewership of 22,000, enabling the viewers to deepen their understanding of the Lotus Sutra.
The meetings were presented by members of the women's and youth divisions, with volume 4 of The Wisdom of the Lotus Sutra, which focuses on the "Life Span" (16th) chapter of the Lotus Sutra, as the study material. The topic was "The Ten Worlds in the 'Life Span' chapter of the Lotus Sutra."
The doctrine of the Ten Worlds discusses 10 distinct life-states present in all life. This doctrine also states that all people have Buddhahood within them, and when we see this potential in people, we can bring out this inherent potential within ourselves and others through compassion. The Lotus Sutra teaches that all people can attain Buddhahood without changing who people fundamentally are.
Lastly, the speakers encouraged everyone to have absolute faith in Nichiren Buddhism, so that they can manifest joy and rouse the courage to overcome all challenges to achieve the life-state of a Buddha and eventually guide others to live a hope-filled and happy life.