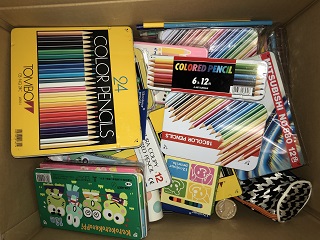 On November 28, 2019, SGM Selangor presented 12 boxes of stationery for the benefit of Rohingya children at the Klang Rohingya Education Centre (REC). These stationery – which included notebooks, drawing paper and coloured pencils – were received by Jaringan Global Islam Masa Depan (JREC) executive director Nur Azlina Abdul Aziz. JREC is a non-governmental organisation that runs five RECs in several states providing education to 850 Rohingya refugee children currently in Malaysia.
Since 2017, SGM Selangor has supported JREC's endeavour to provide education for Rohingya children in our country. Nur Azlina thanked SGM for its efforts in empowering the refugee children.
The stationery presented by SGM Selangor were donated by Soka Gakkai members in Japan. The Soka Gakkai members viewed an exhibition of drawings by refugee children from around the world and were moved. Their gift of stationery was an expression of their best wishes for the refugee children's wellbeing.