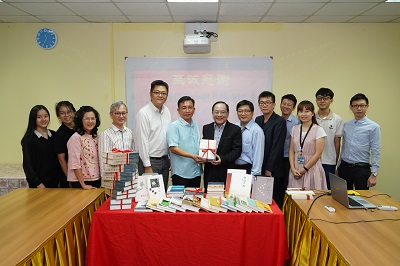 On January 10, 2019, a book-presentation ceremony was held at Southern University College (SUC) in Johor Bahru, Johor, where SGM donated 46 books to SUC. The books were received by SUC senior vice-president Prof Wong Yoon Wah. Representing SGM was SGM Johor chairman Ng Chong Boon.
SUC vice-president Prof Onn Huann Jan, SUC chief librarian Kho Tong Guan and SGM Johor vice-chairman Alex Chew were also present to witness the ceremony.
The books included works and dialogues of SGI President Ikeda, books published by SGM Publications Department, The Complete Works of Hsu Yun Tsiao and others.
In his speech, Prof Wong said that regardless of the era, books are as important as culture. He also hoped that SUC and SGM will deepen their relationship by co-organising forums, culture activities and others. Chairman Ng agreed with the idea of strengthening the bond between two parties while Kho expressed his deepest appreciation to SGM for donating the books which would benefit SUC teachers and students.