On November 12,2020, the International Institute of Advanced Islamic Studies (IAIS) Malaysia collaborated with the International Committee of the Red Cross (ICRC) and Malaysia Red Crescent Society (PBSM) to host an online roundtable discussion entitled "The Role of Civil Society and Faith-based Organisations in Global Nuclear Disarmament." A total of 150 people viewed the discussion.
The discussion was also held to commemorate Malaysia's historic ratification of the 2017 Treaty on the Prohibition of Nuclear Weapons (TPNW) on September 30, 2020 as the 46th state party by bringing together key civil society members including scholars, faith-based organisations (FBOs), non-governmental organisations (NGOs) and youth organisations to mobilise support for nuclear disarmament.
SGM was invited as a FBO and represented by Joanne Foo, Head of External Affairs and Communications. She stressed that we share a universal goal of a just and peaceful world, and that the existence of nuclear weapons are incompatible with the values upheld by our diverse faith traditions. She spoke on SGI President Daisaku Ikeda's ideals of peace and second Soka Gakkai president Josei Toda's historic Declaration on Calling for the Abolition of Nuclear Weapons made on September 8, 1957 in Yokohama, Japan.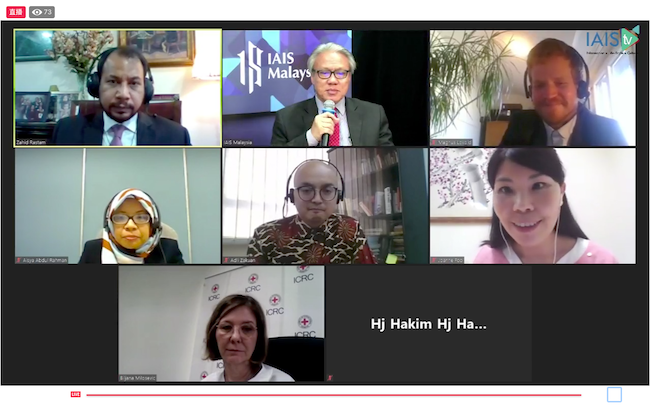 She introduced SGI's core beliefs and activities for peace, culture and education as well as SGM's peace initiatives such as Rakan TPNW, the "Everything You Treasure – For a World Free From Nuclear Weapons" exhibition and Run for Peace. She also highlighted how creative approaches like the #DanceforNUKEBan project can reach out to different audiences on the catastrophic effect of nuclear weapons and the need to eliminate them.
Biljana Milosevic, Head of the Regional Delegation of the International Committee of the Red Cross (ICRC) gave the opening remarks. Panel speakers also included IAIS Malaysia funding CEO Prof Dato Dr Mohammad Hashim Kamali, who gave the keynote address; Magnus Lovold, policy adviser for ICRC; Hakim Hamzah, Secretary-General of PBSM; Zahid Rastam, Principal Assistant Secretary of Non-Proliferation and Disarmament, Multilateral Security Division (MSD), Ministry of Foreign Affairs, and Aisya Abdul Rahman, ICRC legal adviser. Mohd Azmi Abdul Hamid, President of the Malaysian Consultative Council of Islamic Organisation (MAPIM) also participated.
In their presentations, they spoke about the devastating effects of nuclear weapons and the horror victims had to sufferfrom their respective viewpoints. As such, in view of the treaty entering into force on January 22, 2021, it is hoped that all involved would join hands to create a world without nuclear weapons where all can live with their dignity respected and protected.