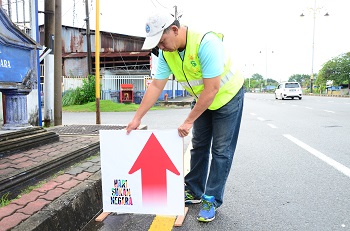 On October 14, the Kedah state-level National Sports Day celebration was held at SMK Mergong in Alor Setar. Menteri Besar YAB Datuk Seri Diraja Ahmad Bashah Md. Hanipah was present to officiate the event which saw over 1,000 people participate in various sporting events such as running, power walking, cycling, wall-climbing and ball games. National Sports Day is part of the governments' efforts to elevate Malaysia's rise as a sporting nation.
Seventeen volunteers from SGM Kedah provided support at the 4-km fun run event, manning the route, supporting the participants and also made signage to ensure the safety of the participants.
Other dignitaries who graced the event included Kedah executive councillor for youth and sports YB Dato' Aminuddin Omar; state secretary YB Dato' Paduka Hj Bakar Din; Director of the Kedah Youth and Sports Department Hj Mohd Salleh Ramli; Kedah Health Department Director Dato' Dr Norhizan Ismail and state Education Department Director Dato' Azuyah Hassan.