From July 28 to August 31, 2019, "A Tribute to Professor Li Chi Mao" art exhibition was held at the Li Chi Mao Art Museum (Malaysia), Cheras, Kuala Lumpur. On July 28, SGM, as one of the joint organisers, was invited to attend the opening ceremony and pay tribute to the late Prof Li Chi Mao who passed away on May 24 this year.
When giving his speech, SGM representative General Director Koh Sia Feai said that Prof Li was a great person who opened a new era of ink painting by building bridges of friendship with many countries. His death was definitely a tremendous loss to the art world but the art works he left behind will serve as an inspiration and encouragement to future generations.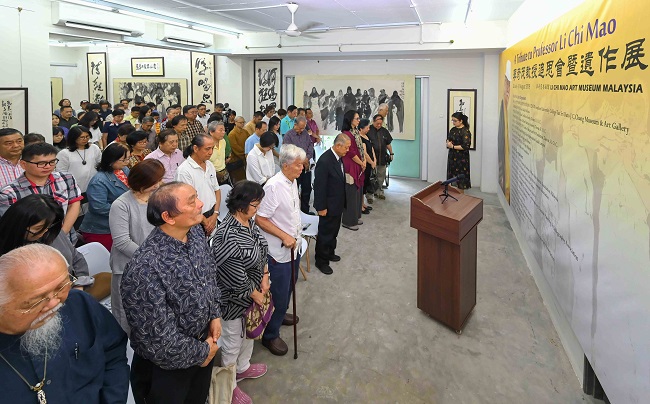 In the end, Ms Li An-Jung, daughter of the late Prof Li, expressed her motion of thanks saying that her father had been travelling to Malaysia many times and made friends with many local people. She was grateful that her father's paintings were able to be preserved and kept for future generations. She also thanked all the guests for coming to pay their tribute to her father.
In October 2008, Prof Li had once held a solo exhibition titled "The World of Li Chi Mao's Ink Paintings" at Wisma Kebudayaan SGM, showcasing 79 of his art works.