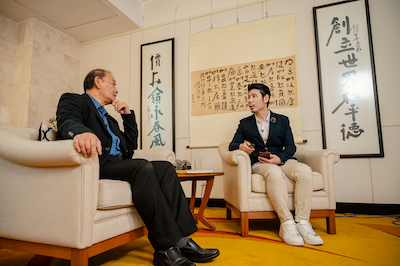 On August 9, 2020, SGM General Director Koh Sia Feai was invited by Choy Mun Kit, a calligraphy activist, for an online titled "Art Talk on Malaysian Pioneer Calligrapher: Venerable Bo Yuan – His Arts and Times."
Another panellist, C.N. Liew, the curator of "Pioneering – by First-Generation Chinese Calligraphers Exhibition" introduced the background, art style and development of Venerable Bo Yuan. He also analysed the works of Ven Bo Yuan and Ven Chuk Mor (Zhu Mo) from different times, and their inspiration to later generations.
Mr Koh shared how he met with Ven Bo Yuan. Using the quote "Humanism is found in calligraphy" by SGI President Daisaku Ikeda and the Buddhist teaching that says "The mind is like a skilled painter," he then praised the lofty personality and high artistic achievements pf Ven Bo Yuan.
Ven Bo Yuan had once likened the Soka Gakkai's activities to flowers blooming in spring. He had also further encouraged the members to stay healthy and continue to bring warmth and happiness to society.
Mr Koh also elaborated on the ideals of the Soka Gakkai's cultural activities and said that Soka Gakkai will inherit and keep on propagating the great and precious spirit of pioneer calligraphers. He also urged people of the same mind to work together in promoting cultural activities.