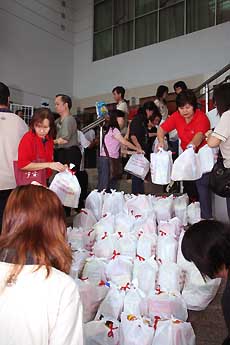 Cha'ah
SGM Johor gave out aid to flood victims during the Chinese New Year period in affected areas in Segamat, Labis and Cha'ah in the form of money, foodstuff and daily necessities. SGM members came out in full force to make the donations to help the victims tide over this difficult period. The total donation in cash and kind came to about RM30,000.
The aid was given out in three instalments. The first instalment was made on the eve of the Lunar New Year, when RM6,600 in "red packets" and RM3,500 worth of dried foodstuff were distributed.
The second instalment was made on February 20, 2011 when the SGM Johor branch chairman Tan Kiang Howe led a delegation to visit the victims in the affected areas and presented them with rice, dried food stuff and red packets.
On the same day, a total of 150 SGM Johor members took part in the activity and distributed RM15, 000 cash in red packets, 4,940 kilos of rice and 5,585 kilos of dried foodstuff.
The third instalment was carried out on February 22, 2011 at the Dewan Jubli Intan Sultan Ibrahim, Ledang, Johor. This event was jointly organised by SGM Johor and the wives of the Johor state assemblymen. The aid was especially given to flood victims who were single mothers.
This event was launched by Y. Bhg. Datin Paduka Prof Dr Jamilah Ariffin, wife of the Menteri Besar of Johor. A total of 470 single mothers from Ledang, Muar and Segamat received the aid, which included cash, batik cloth, drinks, rice and daily necessities.
Among those present at the event were the Member of Parliament for Ledang, YB Tuan IR Haji Hamin bin Samuri; State Assemblyman for Tangkak, Goh Tee Tee; Bukit Naning Assemblyman, YB Dato' Abdullah bin Ali; District Officer of Ledang, Tuan Haji Amran Bin A. Rahman; District Officer of Muar, Tuan Haji Mislan Bin Karmani and their wives.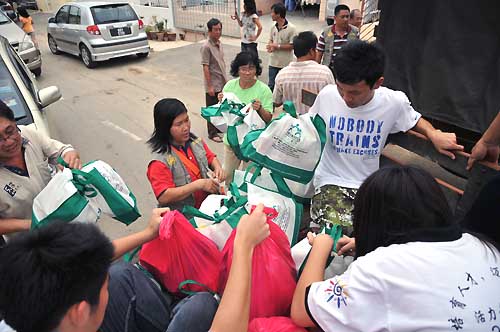 Segamat
SGM Johor Youth Division members were invited to perform four dances. In her speech, Datin Paduka Prof Dr Jamilah Ariffin complimented SGM members for their contributions to victims regardless of religion or race, making them fine examples in society.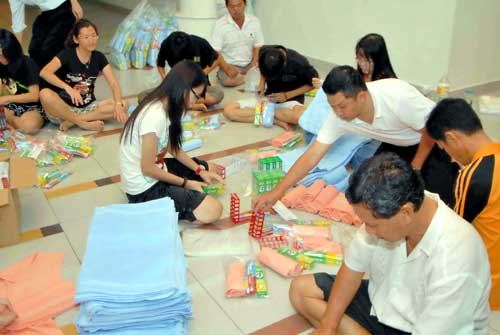 Labis