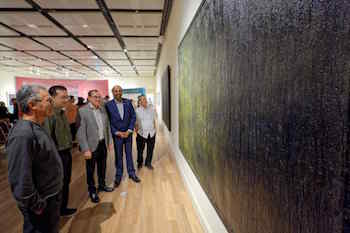 On February 22, 2020, SGM organised an art exhibition by veteran artist Mohd Yusoff Osman at Wisma Kebudayaan SGM. Entitled "Continuum: Nite Rhona – Wetlands Dry Series 5th Solo Exhibition by Mohd Yusoff Osman", the exhibition showcased 59 pieces of abstract artworks, mainly highlighting the issue of drying wetlands. The exhibition ran until March 15, 2020.
In his welcoming remarks, SGM Deputy President Johnny Ng Teck Sim mentioned that wetlands are currently drying at an alarming rate due to unregulated commercial activities, fast becoming "an environmental problem that is greatly impacting our lives." He also mentioned that Yusoff recognises his inseparability with nature, has a strong sense of mission in raising awareness on the importance of wetlands and strives to produce artworks that are meaningful to society. He pointed that this ideal is "similar to the concept of 'Soka', which means value-creation, where we believe every single individual possesses the power to create value at each moment."
Next, artist Yusoff Osman took to the rostrum and talked about his bitter-sweet journey in art, touching briefly on the art group Anak Alam, to which he is deeply indebted.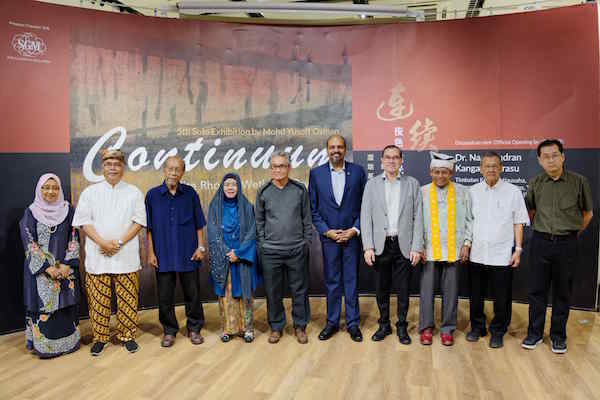 On hand to officiate the opening was Dr Nagulendran Kangayatkarasu, Deputy Secretary-General, Ministry of Energy, Science, Technology, Environment and Climate Change (MESTECC). Graduating with a Masters in Environmental Management from the University of Nottingham in 2003, Dr Nagu, as he is better known, also represented the Government of Malaysia in numerous international conventions and treaties on the environment, negotiating Malaysia's stand on issues related to biodiversity and access to benefit sharing and biosafety.
In his speech, Dr Nagulendran warned that we often forget about our interconnectedness with each other and that, due to rapid destruction and deforestation, species such as elephants, tigers and rhinoceros are becoming extinct. He also pointed out that plastics we throw away have seeped into our food and entered our bodies. He also touched on global warming and climate change and urged the audience to act, because as individuals, there is much they can do, perhaps more than governments. He lauded SGM's efforts in promoting such awareness to make the world a better place for future generations.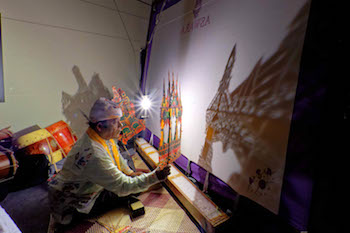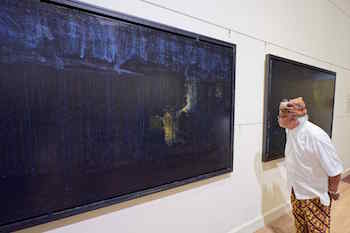 To enliven the atmosphere of the opening ceremony, a wayang kulit performance was held to the delight of the audience. The specially-created performance was headlined by famous Malaysian master puppeteer extraordinaire (or Tok Dalang) Mohamed Nasir Yusoff, better known as Pak Nasir. Datuk Dr Zurinah Hassan, Malaysia's 13th national literature laureate gave a reading of her own poetry about nature in suffering. Well-known local actor Datuk Ahmad Tarmimi Serigar recited one of Yusoff's poems. Also gracing the ceremony were national literature laureate Datuk Dr Anwar Ridhwan and exhibition curator Tan Sei Hon.
Apart from that, Yusoff Osman also delivered two art talks on his work in advertising and fine art on February 25 and March 3 respectively at Wisma Kebudayaan SGM. In his talks, attended mostly by art college students, Yusoff highlighted his achievements in the advertisement industry and fine art. He shared with the audience the vast systematic knowledge (ilmu) he acquired on his journey, his attitude of learning and re-questioning accepted values and ways of working to achieve important milestones in his careers.