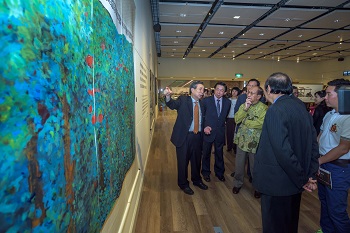 In a landmark effort, SGM and the Taipei Economic and Cultural Office (TECO) in Malaysia jointly organised the exhibition titled "The Aesthetics of Ink Painting – Solo Exhibition by Huang Kuang-nan" at Wisma Kebudayaan SGM (WKSGM) from April 23 till May 8. The exhibition was officially opened on its first day by TECO Representative James Chang Chi-ping and Tan Sri Dr Rais Yatim, Special Adviser to the Malaysian Government on Socio-Cultural Affairs.
The featured artist is Prof Huang Kuang-nan, renowned contemporary Taiwan ink painting artist and national policy adviser to former Taiwan president Ma Ying-jeou. Born in Kaoshiung in 1944, Prof Huang has played many roles in his distinguished career. Other than being an artist, he is also an art educator and art administrator. From 2004–2011, he was president of the National Taiwan University of Arts while from 2012–2014, he served as Minister without Portfolio in the Executive Yuan. He has won several awards for his significant contribution to arts and culture.
In his speech, SGM General Director Koh Sia Feai praised Prof Huang for his accomplishments. "He demonstrates immense potential for a single person to excel in multiple fields." He also paid tribute to his tireless efforts in promoting arts, particular his expertise in assisting over 700 museums in their development and operations.
Prof Huang expressed his appreciation to SGM and TECO for organising this solo exhibition of his ink painting works. He pointed out that the long history of Chinese ink painting stresses moral inheritance, enlightenment, and harmony between self and nature. Ink wash painting also expresses the essence of spirituality.
| | |
| --- | --- |
| | |
| Art talk at WKSGM | Art talk at SGM Penang Culture Centre |
| | |
Mr James Chang praised Prof Huang for his longstanding expertise in art education, the administration of museums and in writing about art. He hoped that Prof Huang's works and lectures on art (that were presented during his stay in Malaysia) will help enrich the art world of our country and foster closer socio-cultural ties between Malaysia and Taiwan.
Meanwhile, Tan Sri Dr Rais Yatim said without art, life has no meaning, and education without art is not education at all. He lauded Prof Huang's accomplishment in art and education, stressing that it is something that is worthy to emulate. Art is an expression of the human spirit, and Prof Huang has always upheld this belief through his works and efforts in the world of art.
In conjunction with the exhibition, Prof Huang presented several artworks to SGM for its permanent collection. TECO also presented a donation of books to SGM, which was received by SGM President Michael Kok. Mr Kok also presented souvenirs to Mr James Chang and Tan Sri Dr Rais Yatim. Prof Huang also presented his artworks to TECO.
During his stay in Malaysia, Prof Huang presented two art talks: one in WKSGM on April 23 and another in the SGM Penang Culture Centre on Penang island on April 24. The lectures will be covered in an upcoming report.