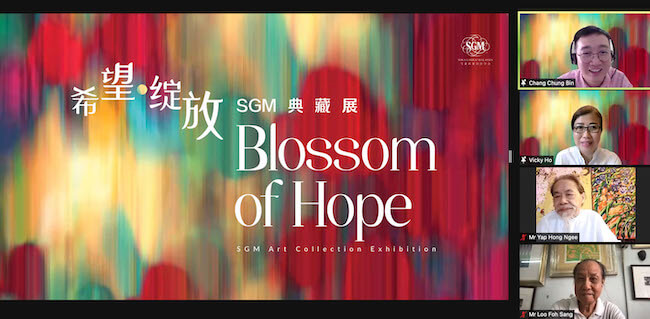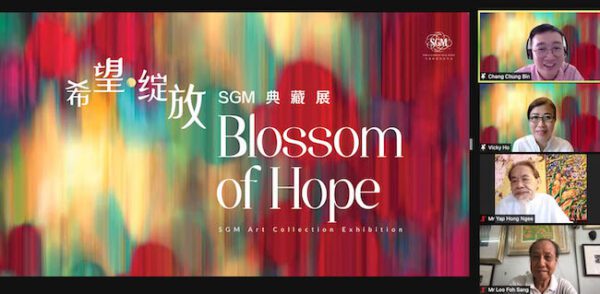 On October 30, SGM organised an online poem and art appreciation event titled "Blossoms of Hope," to promote the "Blossoms of Hope: SGM Art Collection Exhibition." The art exhibition was later held online beginning November 27, 2022.
This online promo event, held on Zoom and streamed via the SGM Peace Activities (Official) Facebook page, attracted 480 participants on that day, a record for an SGM art event.
The art exhibition is a collection of 32 artworks featuring artistes from several countries and themed around flowers of the four seasons. Curator Vicky Ho expressed her hopes that no matter how difficult our situation is, we can all bloom beautifully in our own ways, like the flowers featured in the exhibits.
Poetic works by SGI President Daisaku Ikeda titled "Spring Breeze," "Weeds," "Autumn Wind" and "Challenge" – representing the seasons – were recited in various languages, conveying the message that "When you have hope, there is always a way!"
Two renowned veterans of the Malaysian art scene, Yap Hong Ngee and Loo Foh Sang, whose works are featured in the exhibition, shared stories on their works.
Mr Yap, who is well-known for his ink paintings and paintings of flowers, spoke of his work "The Golden Garden of Love" and his experiences of painting flowers. He stressed that when creating artworks, one must have a sincere heart, so that viewers can still understand the artwork even if it wasn't "perfect."
Mr Loo, whose best-known for making prints, discussed his work "A Bunch of Flowers" and basic concepts of printmaking. He has been working on improving techniques of printmaking and hopes his endeavours will inspire more people to love prints.
In the ensuing question-and-answer session, both artists agreed that the heart and passion to learn is important, regardless of the learning methods.
Those who embrace hope will never be defeated. They will keep on advancing. Amid the pandemic, let us continue spreading hope through the power of arts and culture.