March 5 marks the establishment of the men's division (MD), whose members are regarded as the golden pillars of kosen-rufu. This year marks the 54th anniversary of the significant day.
Seeking to commemorate this day and share SGI President Ikeda's guidance to MD members, SGM conducted an online study meeting on this day with some 140 MD representatives from all over the country.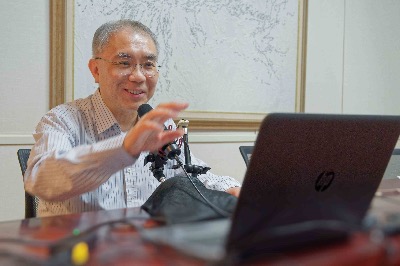 MD leader Dr Boey
In view of the COVID-19 outbreak and suspension of SGM activities, an earlier planned larger commemorative meeting that would have been broadcasted nationwide was cancelled and replaced with an online meeting with only key speakers and personnel, with participants nationwide connecting online from their individual venues. As such, each person could interact with each other while staying at the location they choose. It was a first for SGM to hold meetings in this manner.
The meeting began with a speech by SGM Young Mister Committee leader Chia Kok Peng who stressed that Young Mister members are a vital force in the MD. Members need to base their lives on faith, strive to the very end and actively promote SGM activities and kosen-rufu. They should also promote peace, culture and education in the same spirit as our mentor SGI President Daisaku Ikeda.
He also announced a training session for Young Mister PICs scheduled to be held in August 2020 at the SGM Culture Centre and called upon all MD members to support MD activities and be more active in the grassroots.
MD leader Dr Christopher Boey Chiong Meng then conducted a study based on President Ikeda's Gosho lecture entitled "To My Friends of Each Division Engaged in Our Shared Struggle (part 2): The Men's Division, Invincible Pillars of Kosen-rufu – Create History and Be Victors in Life!" in the lecture series entitled The Buddhism of the Sun – Illuminating the World. (See FLOW No. 717 for the full lecture).
SGM men's division leader Dr Boey reminded the participants of the significance of March which is the month of establishment of the men's division which was formed on March 5, 1966. As such, March is a time of fresh, vibrant growth, deepening their determination that they will be the ones to actualise kosen-rufu.
Following this, Dr Boey outlined the roles MD members could take to achieve this, including staying united with our mentor, taking second Soka Gakkai president Mr Toda as a model of lifelong commitment to kosen-rufu with absolute conviction in the Gohonzon, and remaining undefeated in facing life's challenges. Dr Boey also stressed the importance of thoroughly learning to live with Nichiren Daishonin's immense courage and resolve in overcoming great obstacles, emerging victorious in life and kosen-rufu.
In ending his lecture, Dr Boey urged MD members to rise up and fulfil their supremely noble mission as invincible golden pillars of the SGI while striving for kosen-rufu with even greater vigour and energy.