On September 26 and 27, 2018, SGI Study Division Vice-Leader Sei-ichiro Harada conducted study courses at the SGM Penang Culture Centre. The seminar was broadcasted live to 64 venues and attended by some 8,500 people across the country over the two days. Mr Harada used two Gosho lectures as study materials, both coming from "The Buddhism of the Sun: Illuminating the World" series by SGI President Ikeda.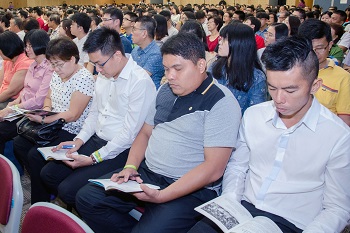 For this seminar, President Ikeda had also sent a message to "all courageous champions dedicated to a great vow to shoulder the new era of Malaysia kosen-rufu", hoping that all members will be "burning with hope and striving even more energetically, let's advance in harmony, joy and unity in the spirit of 'cherry, plum, peach and damson' and 'many in body but one in mind' as you bring Malaysia to shine with ever greater brilliance as 'a victorious country that is foremost in the world'!"
On the first day, Mr Harada stressed that "studying practically" and "basing one's faith on the Gosho" are the only ways for SGM members to thoroughly understand Nichiren Daishonin's teachings.
The next day, Mr Harada stressed on a practitioner's correct attitude in faith, as mentioned in the three fundamentals of faith – faith, study and practice – and that the SGI will always be an "organisation of faith."
At the end of the second day, a group of youth led a singing session where they sang Youth with a Noble Vow together with the audience. They were determined to fulfil the grand vision of kosen-rufu by becoming the powerful driving force for Malaysian kosen-rufu.
After the seminar, Tan Keng Leng from Sabah said that he now realised that faith is the key to overcome all problems and that to open the path to Buddhahood depended on the strength of our faith. Meanwhile, Chai Chin Nee learned that strengthening her faith did not rely on how many years she had practised, but only through practising sincerely every day that she could establish an unshakeable foundation in life.