From March 30 to April 4, SGI Council Member Dr Akash K. Ouchi visited Malaysia for a series of study and dialogue sessions with SGM leaders. This is the second time Dr Ouchi, who is based in New Delhi, India, has visited Malaysia, the first time being in December last year.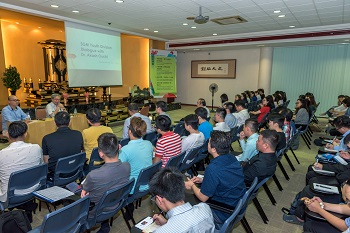 Dialogue session with SGM youth representatives
On the evening of March 31, he held a dialogue session with over 200 SGM youth representatives from all over the nation at the SGM Culture Centre. He began by sharing how Bharat Soka Gakkai (BSG) expanded from 70,000 members in March 2014 to 160,000 by end-2016.
They modelled their expansion struggle after the 1956 Osaka campaign led by SGI President Ikeda. The members of the four divisions worked in complete unity to expand the BSG membership, launching a "Golden District" campaign to share Nichiren Buddhism with the people around them. A wave of propagation swept all over BSG and members joyfully shared Nichiren Buddhism with people around them. Dr Ouchi remarked that sharing Buddhism is a struggle to win over our own inhibitions and limitations for the sake of expanding the solidarity of Bodhisattvas of the Earth.
He then fielded questions from the youth, which covered sharing Buddhism, expanding the organisation, marriage and others. For each question, Dr Ouchi answered with earnestness and sincerity, basing the replies on the Gosho and President Ikeda's guidance. He urged the youth to fight for the sake of President Ikeda and expanding kosen-rufu.
On the afternoon of April 1, he presided over a national Soka Spirit committee meeting held at the Ikeda Peace Auditorium of the SGM Culture Centre. Here, he studied "Letter to Misawa" with the participants, with President Ikeda's lecture on this Gosho in the "The Hope-filled Writings of Nichiren Daishonin" series as the study material. This Gosho speaks about how devilish functions and fundamental darkness work to obscure Buddhahood within our lives and others', and cause people to have doubts in themselves and the organisation.
To overcome the workings of devilish functions and fundamental darkness that lie within our own lives, we must strengthen our determination to fight for kosen-rufu in complete unity with fellow members. Devilish functions work in ways we cannot expect to disrupt kosen-rufu. We must always be on guard against them, and defeat them through strong faith and dedication to kosen-rufu.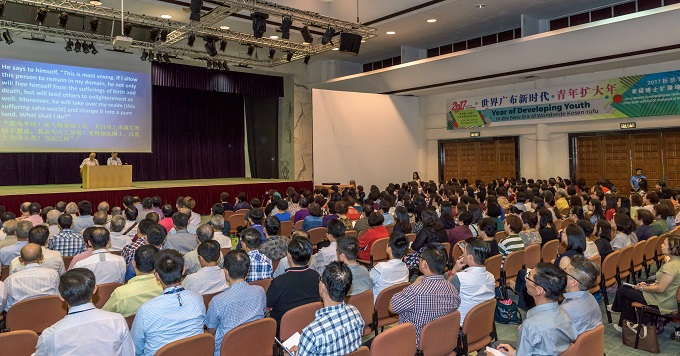 Study session on April 1
In the evening of the same day, Dr Ouchi conducted a study session with leaders nationwide through live broadcast. He spoke about our mission as Bodhisattvas of the Earth and the significance of SGM's expansion campaign in 2017 and 2018. The Mystic Law is a great teaching; however, if we do not share it, people will not be able to change their lives through it unless we share it.
Each of us must take responsibility for expanding the organisation. When we stand up, many more like-minded comrades will appear. When we speak about Nichiren Buddhism, President Ikeda's teachings and the SGI with the people around us, a wave of happiness will surely arise.