In June 2019, the Golden Age Group held annual commemorative meetings to celebrate the anniversary of its establishment – June 2, 2002 – at 19 venues around the country. During these meetings, a congratulatory message from SGM General Director Koh Sia Feai was read and activities such as Buddhist study, experience-sharing, exercises and singing were carried out to further enliven this significant day.
In his message, quoting from a Gosho passage, "One day of life is more valuable than all the treasures of the major world system," (WND-1, pg 955) Mr Koh urged the members of Golden Age Group to continue to persevere with unremitting effort and strong resolve to achieve the great goal of kosen-rufu and create lofty value every day. He further encouraged them to devote wholeheartedly in giving personal guidance and encouragement, carrying out Buddhist dialogue and introduce others to Nichiren Buddhism, and become a driving force for the "1233 New Dawn Block Campaign" with their rich experiences in life and faith.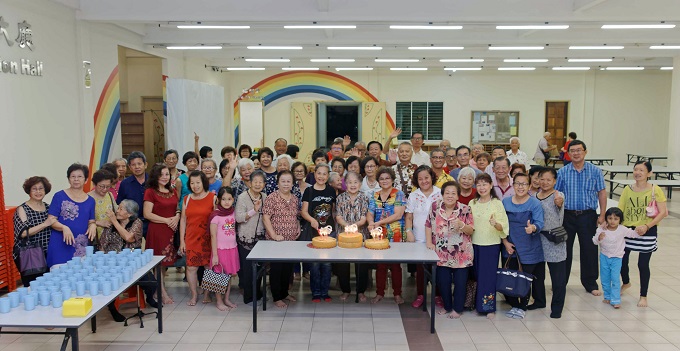 Pahang
On June 1, 76 members from Kuantan gathered at the SGM Pahang Culture Centre to celebrate this anniversary. In the meeting, three women's division (WD) members shared their impression of visiting the Hall of the Great Vow for Kosen-rufu in Tokyo, Japan. Later, SGM president Michael Kok urged the members to dedicate their life to kosen-rufu, as the last stage of life is the most crucial one.
Meanwhile on June 2, SGM Perak held its commemorative meeting cum Soka Day and 5535 commemorative meeting at its culture centre with some 550 participants in attendance. Using the Golden Age Group's motto "Fulfilling Our Mission – A Lifelong Struggle", Perak Central zone leader Lai Soo Ha urged the members to become the role model of faith and encouraged them to foster youth with their abundant experiences in life and faith. Later, 14 members from Kampar and women's division members from Manjung presented songs and dances respectively, further enlivening the atmosphere.
A week later, on June 9, SGM Penang's Golden Age Group members held their commemorative meeting at the SGM Bukit Tambun Culture Centre. More than 300 members attended the joyful meeting. The meeting ended with Penang Golden Age Group leader Lim Teik Chye giving encouragement to the participants.
| | |
| --- | --- |
| | |
| Perak | Penang |
| | |
On June 29, the Menjalara Centre in Kuala Lumpur welcomed Golden Age Group members from Sungai Buloh, Sri Sinar and Manjalara regions (all part of Kepong North zone) to hold a commemorative meeting. Kepong Central zone, Jinjang region leader Wong Liang Chiang shared the good fortune he has experienced since joining SGM in 1977. With SGI President Ikeda's guidance deeply engraved in his heart and through chanting abundant daimoku while actively engaging in SGM activities, he was able to transform his karma into mission and gain victory after victory in life.
Lastly, SGM WD vice-leader and national Golden Age Group leader Foo Siew Eng stated that life is a struggle against challenges and our own weaknesses, urging members to become the "first aid team" for kosen-rufu where they can be the first to pray for and have sincere dialogue with those facing troubles.
| | |
| --- | --- |
| | |
| Kuala Lumpur | Melaka |