Information in BM (PDF) – BANJIR: Apa Tindakan Anda?
FLOOD: What should you do?
Preparation before a flood
Get flood information in your area.
Confirm the flood warning system.
Check that the drains and channels around are not blocked.
Check and make sure the lid of the septic tank is tightly closed.
Get information on the evacuation centres.
When a flood is imminent. . . . . .
Turn on the radio, TV for flood announcements.
Store clean water in buckets that are in good condition and keep them at higher ground.
Be prepared to turn off the main switches for electricity, water and gas.
Move the outdoor furniture into the house.
Place electrical appliances in high places.
Store important documents in a waterproof container and carry along with your basic emergency kit bag pack.
Notify your neighbours and prepare for evacuation.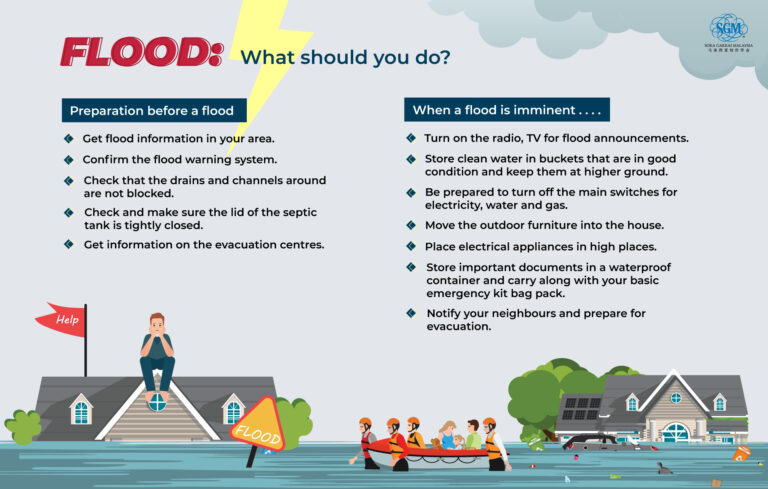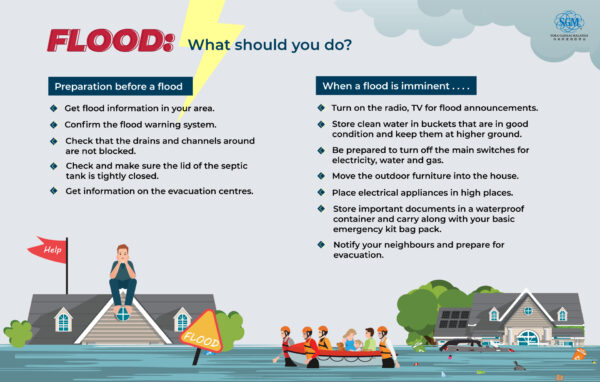 In the event of a flood (when inside the house)
Listen to radio announcements about the flood.
Prepare the emergency kit bag pack.
If you receive an official evacuation notice, evacuate immediately.
In the event of a flood (when outside the house)
Evacuate to higher grounds that is safe and away from rivers, ditches and open spaces.
Don't hang out or paddle in flooded areas.
Do not touch any cables, wires.
Warn children not to play in rivers, ditches, mine lakes or flooded areas.
In the event of a flood (when in the car)
Don't cross the flooded areas, please turn around.
If the car engine stalls and cannot be ignited, get out of the car, lock the car and leave to a safe place.
When it is necessary to evacuate
When you are instructed to evacuate, please evacuate immediately.
It is safer and easier to evacuate before the water level rises or during the day.
Follow the planned evacuation route, the shortcuts may be blocked or dangerous.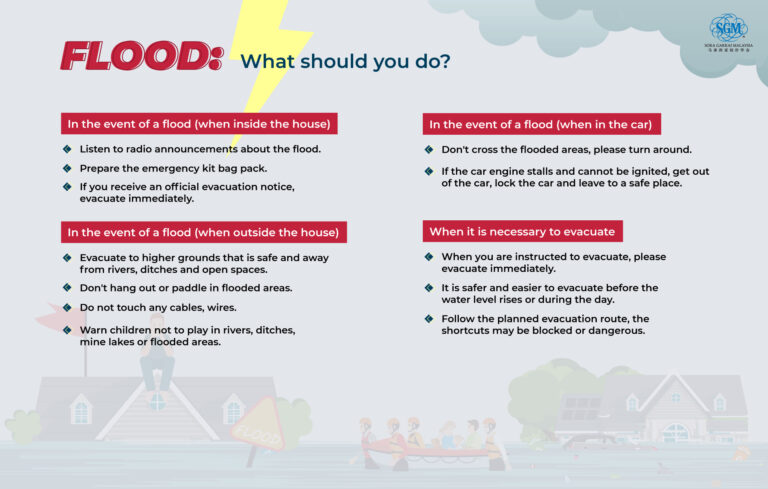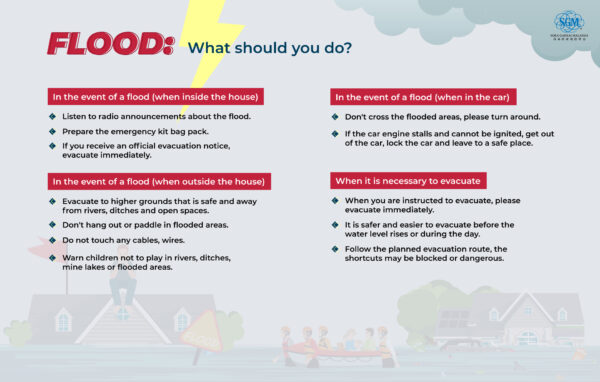 After the flood
Listen to radio or official announcements, please do not go home without permission.
Aid your neighbours or people with special needs.
Inspect your home for signs of sinking or cracking, these are signs of danger.
When entering the house
Please wear shoes or slippers.
Check for damage on the walls, floors, doors and windows.
Beware of cracked and falling of ceilings, plaster walls, etc.
Check for signs of poisonous and dangerous animals.
Use sticks to remove obstacles that scattered in the house
Check for life-threatening hazards
Check water or gas pipes for damage or leaks.
Check the electrical wiring and appliances submerged in water.
Check whether there are flammable substances entering the house (eg: kerosene, gasoline, etc.).
Discard food submerged in water or contaminated by flood water, including canned food.
Inspect septic tanks for damage to avoid biological hazards.
Report any damage to public facilities (eg water, electricity, gas supply) to the relevant authorities immediately.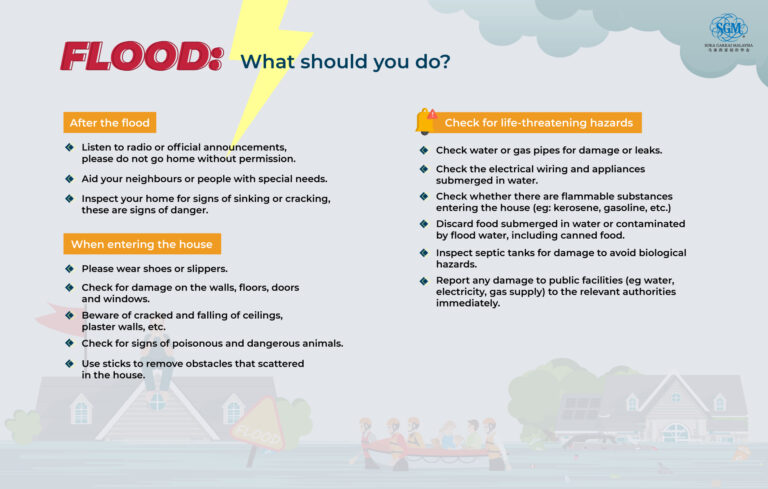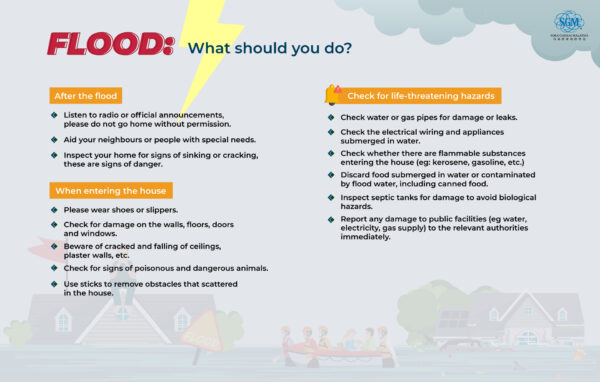 Be Prepared to Face Disaster: Ready2go Bag
Water
Whistle
Money
Important Documents
Hygiene Kit
Torch light & Batteries
First Aid Kit & Medicines
Telephone & Power Bank
Clothes, Shoes & Blanket
Food that can be stored
Mini Portable Battery Radio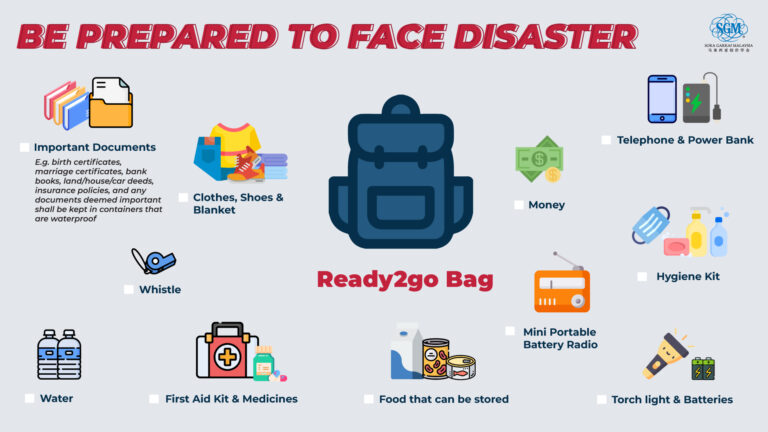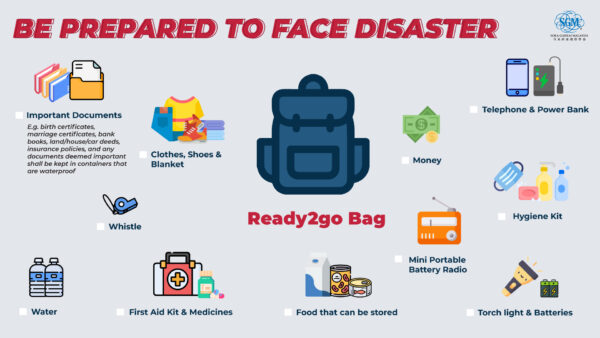 Emergency Hotline and Websites
Police / Ambulance / Fire Fighters
TEL: 999 or 112    WEB: https://999.gov.my
HP Apps for deaf
WEB: https://999.gov.my/saveme-999/saveme-999-deaf/
HP Apps for blind
WEB: https://999.gov.my/saveme-999/saveme-999-blind/
HP Apps for Police
WEB: https://999.gov.my/saveme-999/saveme-999-polis/
National Disaster Command Centre (NDCC)
WEB: https://portalbencana.nadma.gov.my/ms/
National Disaster Management Agency (NADMA)
WEB: https://www.nadma.gov.my/ms/
Disaster Operations Control Centre (PKOB) Hotline
TEL: 03-8064 2400 (24 hours)
WEB: https://portalbencana.nadma.gov.my/ms/pkob
The Official Web Of Public Infobanjir
WEB: https://publicinfobanjir.water.gov.my/aras-air/?lang=en
TNB Electric: Power Outage TNB Careline
TEL: 15454
TELEKOM MALAYSIA: Technical Assistance Telekom Careline
TEL: 100
Helpline for Women: 1 Stop Crisis Center
TEL: 03 2615 3333
Helpline for Women: All Women Action Society Malaysia (AWAM)
TEL: 03 7877 4221
Helpline for Women: Women Aid Organization (WAO)
TEL: 03 7956 3488
The Malaysian Civil Defence (APM)
WEB: https://www.civildefence.gov.my/en/
State  
District Disaster Operation Control Centres
No. Telephone
Perlis
Kangar
04-9777991 / 04-9778991
Kedah
Alor Setar
04-7323810 / 04-7323801
Pulau Pinang
Timur Laut (Georgetown)
04-2263876
Perak
Kinta Ipoh (State Operation Control Centre)
05-5278715
Selangor
Klang
03-33710820
WP Kuala Lumpur
Kuala Lumpur
03-26871400
Pahang
Kuantan
09-5181991
Terengganu
Kuala Terengganu
09-6668246 / 09-6672991
Kelantan
Kota Bharu
09-7474091
Negeri Sembilan
Seremban
06-7645755
Melaka
Melaka Tengah
06-2324028
Johor
Johor Bharu
07-2349706 / 07-2349708 / 07-2349709
Sabah
Kota Kinabalu
088-232440 / 088-232453
Sarawak
Kuching
Petrajaya
082-433896
082-370205