The Threat of Extreme Weather Is Real!
Interview with Koo Yee Heng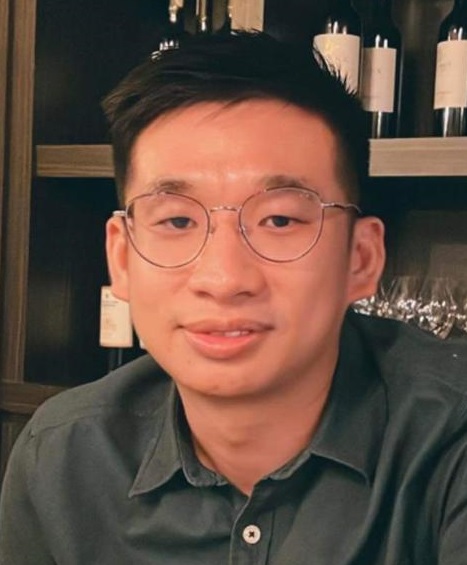 The calamitous floods in December 2021 was like a wake-up call: the threat of extreme weather events in Malaysia is real! Selangor was one of the hardest-hit states. COSMIC interviewed Koo Yee Heng, an SGM youth division member who lived in one of the affected areas, to learn about his unforgettable experience of the disaster and disaster relief efforts, as well as the views of youth on tackling climate change. Questions are in bold.
Do you believe climate change is a crisis we should view seriously? Why?
Definitely.
In recent years, we can perceive that the global climate is undergoing great changes, and these changes are threatening human beings and all living beings on the planet. Disasters brought about by extreme climate change, such as typhoons caused by tropical cyclones and major floods, have resulted in great damage to human beings and the environment. And these climate caused disasters have become more and more frequent, so we have no choice but to take a hard look at the crisis caused by climate change.
Have you ever personally experienced the effects of the climate crisis or the damage it causes to human society?
I didn't pay much attention to climate change in the past, as Malaysia was a unique country that didn't seem affected. We lived in a country that ranked relatively low on disaster risk indices, and we felt very fortunate.
However, in recent times, all of us in Malaysia are feeling threatened due to extreme weather conditions. It's a direct threat to us. The recent torrential rains have caused terrible flooding in many places that never had floods before.
The major floods last December are the best example. Although the area I lived in was fortunately not flooded, the food processing plant I run is located in a low-lying area that became flooded, and this greatly affected our production operations. Although the machinery and goods were not directly damaged, we still needed to do clean-up. We had to stop production for a week, which caused a certain amount of losses.
The floods made me feel directly threatened.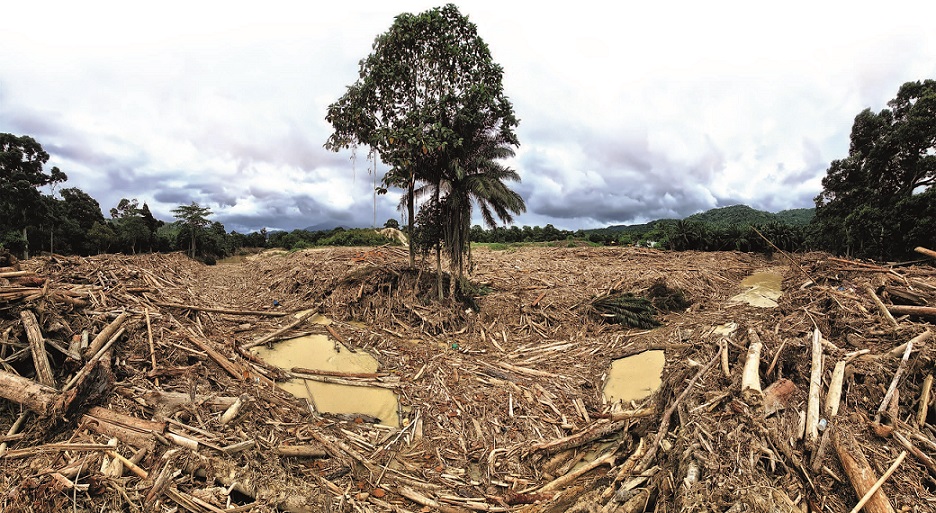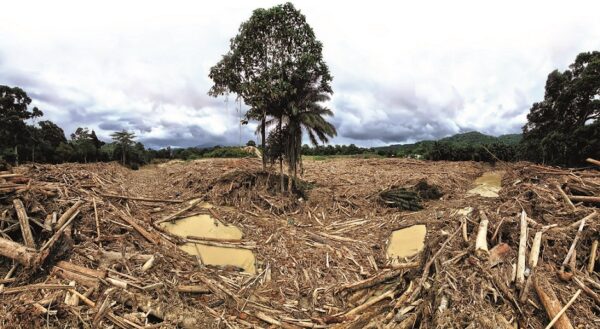 We heard that you also participated in disaster relief efforts. Could you please share the situation at that time?
The Taman Sri Muda area in Shah Alam, Selangor where I work was hit hardest by the floods. It was an unprecedented situation. In some places, flood waters rose as high as eight to ten feet. Some houses had entire floors being submerged by flood waters.
In this time of crisis, SGM youth rose up to help out in disaster relief efforts. After making arrangements for work, I and local young men's division members, working alongside other members as well, quickly took action. The first step was to rescue trapped victims. Due to the high water levels, we needed boats. We were inexperienced and searched high and low for boats. Finally, we contacted a civil defence unit in Penang which sent a boat to the disaster zone. After taking all necessary precautions, I ventured into the disaster zone with the boat and rescued flood victims. We placed them in disaster relief centres or with their families and relatives.
After the floods receded a few days later, we began another round of disaster relief efforts, where we assisted victims in clean-up work. Our group of volunteers who arrived in the disaster struck areas felt like they had landed in a war zone, leaving a deep impression. The mess left behind by the floods was colossal and the stench was unbearable.
Though the victims managed to return home one after another, the devastation that they saw caused them to become downcast and feel helpless. Based on the spirit of sharing the victims' suffering, we worked closely with each other and carried out our tasks in an orderly manner. After cleaning up, the flooded houses looked as if brand new, and we finally saw long-lost smiles on the face of the victims! This was our greatest comfort and encouragement, and we felt that our arduous efforts were worth it!
SGM volunteers took about a month to assist about 40 affected households in Taman Sri Muda, cleaning and disinfecting the homes. During this period, some victims were reluctant to let go of certain items and struggled with discarding them. We felt that the floods not only caused material losses, but it also caused mental and emotional setbacks for them. Witnessing this, we were agonised.
We are very grateful that not only did SGM speedily organise disaster relief efforts, but it also provided emergency assistance to members affected by the disaster. Women's division members supported the efforts from behind the scenes, preparing food and drinking water for the volunteers and victims who were busy cleaning up. This really warmed our hearts.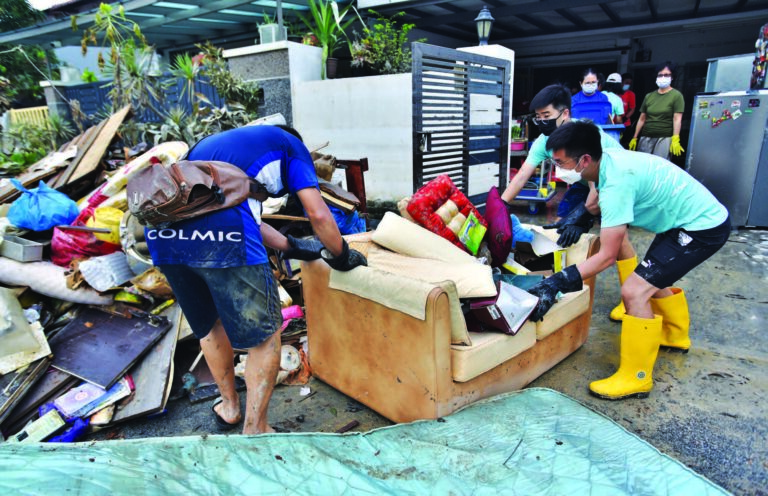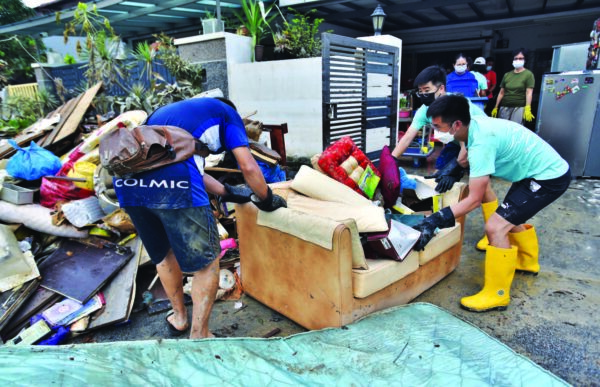 What insight or awareness did you gain from the floods?
The relationship between human beings and between human beings and the environment are based on coexistence and are deeply intertwined. The floods made me feel that Malaysians have to take climate change very seriously, and that we need to make a change.
I have learned good values from the guidance of the Soka Gakkai and SGI President Daisaku Ikeda. No one is free from issues affecting the environment. When a crisis occurs, we must take decisive action. Instead of just complaining or waiting, we must first seek the resources we need to help others and open a path forward. We should take action that reflects the spirit of "If one lights a fire for others, one will brighten one's own way" (WND-2, pg 1060) in all aspects.
I've decided to begin with myself. For my business, the thinking, choices and execution must be in line with sustainable development and green concepts such as reducing waste and recycling material for product packaging.
As a youth, what would you do to combat climate change?
I believe it is necessary to harness the power of youth, and inspire them to think and act together to protect the environment.
We need to learn from one another and other youth organisations, and explore how we can contribute to protecting the environment. We should also learn from the successful examples and creative ideas of youth organisations overseas, and put them into practice based on the situation in Malaysia.
I joined an environmental group in my local community, which consists of Taman Sri Muda residents, village heads, non-governmental organisations and other individuals and groups. When it rains, we will share disaster prevention information with each other. We also examine the policies of and implementation plans by the authorities, as well as observe the environmental impact of nearby development projects, to avoid the reoccurrence of the December floods. We will also assist the government in promoting flood awareness to the public. Youths must act within their own spheres of influence.